Wow! Impress your family and friends with these delicious homemade caramel recipes.
With Christmas and Thanksgiving just around the corner, it is time to start thinking about all the fabulous sweets and desserts you can prepare. I  have selected 25  of the most scrumptious Caramel Recipes on Pinterest.
Caramel Recipes
Get some inspiration for your own Christmas or Thanksgiving party this year while trying out these easy caramel recipes.
To view the full instructions for any of these caramel recipes, please click the link below each image.
1. Homemade Caramel Sauce
If you have ever wondered how to make homemade caramel, wonder no more.
Forget spending your money on store-bought caramel because this recipe is quick, easy, smooth and delicious.
The best way to make caramel is to use this recipe as a base but then modify it as much as you'd like (or simply enjoy it as is).
Want salted caramel? Just stir in half a teaspoon of salt at the end.
Want some fancy nutty caramel? Sprinkle some chopped peanuts on top (salted or unsalted) before serving.
From: centercutcook.com
2. Caramel Apple Muffins
Caramel apple muffins are bursting with warm cinnamon & sugar, chunks of apple, and caramel pieces.
They bake up perfectly round like a bakery! These muffins are a fun twist to the classic caramel apple. The perfect baking project for a cold & rainy Fall day.
From: togetherasfamily.com
3. Date Caramel
Thick, creamy, dreamy date caramel. Made with just three simple ingredients.

From: veganosity.com
4. Salted Caramel Frosting
The one and only recipe you'll ever need for Salted Caramel Frosting.
This recipe is perfectly balanced, incredibly delicious and can be used for just about everything!
I make my buttercream frosting with sweet dulce de leche caramel, which is a richer and thicker version of caramel than regular caramel sauce.
From: tatyanaseverydayfood.com
5. Maple Caramel Carrot Cake
Spiced carrot cake layers infused with maple syrup and topped with maple caramel & cream cheese frosting.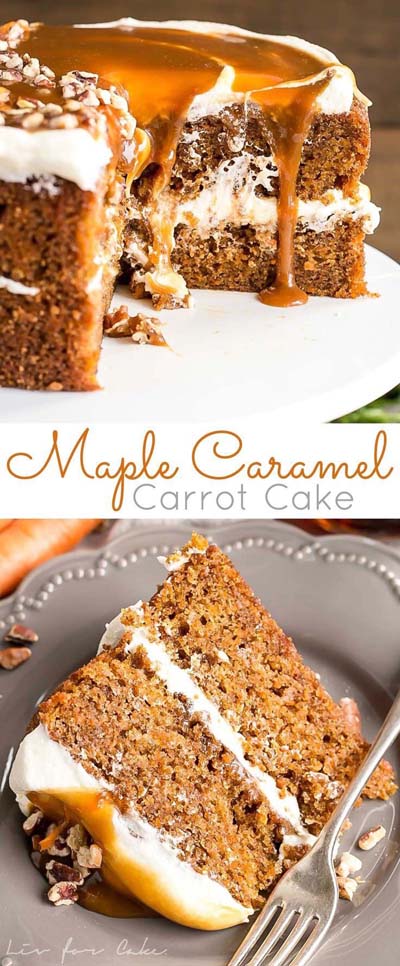 From: livforcake.com
6. Salted Caramel Sauce
If you love Salted Caramel, try this 3 ingredient homemade Salted Caramel Sauce.
Perfect for pies, brownies, ice cream or cupcakes!

From: numstheword.com
7. Caramel Apple Butter
I'm not sure where apple butter has been all my life, but I recently discovered it and wow it's amazing.
I want to put it on everything: pancakes and English muffins and toast and ice cream.
And graham crackers. Don't get me wrong, I love homemade jam, but right now it's apple butter all the way. Caramel apple butter, to be exact.
I combined a few recipes to come up with an easy way to make apple butter in the slow cooker, adding in a hefty dose of melted caramel to take it from delicious to divine.

From: itsalwaysautumn.com
8. Homemade Salted Caramels
Caramels are one of the easiest candies you can make at home.
All you need is a straight-forward recipe and a few tricks.
From: inspiredtaste.net
9. Caramel Glazed Spice Cake
Caramel Glazed Spice Cake-start with a simple yellow box mix then with the addition of spices and a sweet caramel glaze you have something that will rival any cake made from scratch!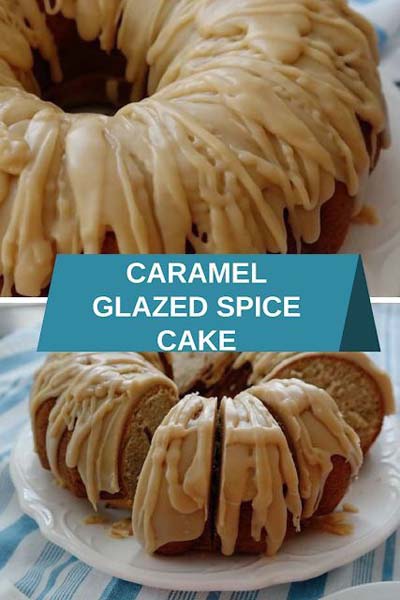 From: cakecooking-recipes.blogspot.com
10. Soft Caramel Snickerdoodles
The ingredients are quite standard for snickerdoodles, but it's the ratio that makes these snickerdoodles so utterly dreamy.
Lots of butter, brown sugar for a little flavor, white sugar, eggs, cinnamon, vanilla… the cookie gang's all here. All super basic ingredients.
From: sallysbakingaddiction.com
11. Salted Caramel Pie
When I first saw this recipe I knew it was calling my name… This pie is amazing and has it all- sweet, salty, rich, creamy and easy to make!
What more could you want? Perfect for Thanksgiving, Christmas, and any special occasion.
From: caramelpotatoes.com
12. Six-Minute Salted Caramel Sauce
It's that time of year where I want salted caramel EVERYTHING.
It's such a cozy treat! Be it drizzled over your coffee… or straight into your mouth.
If you've been looking for an easy way to slip into the salted caramel game, this recipe is here for you.
No thermometer needed. And also no fancy ingredients.  All you need is six minutes!
From: bakerbynature.com
13. Caramel Apple Parfaits
These Salted Caramel Apple Parfaits are the warm and comforting fall treat you've been waiting for.
These parfaits are nut free, gluten free, and dairy free and full of fall flavor.
Store in a mason jar for a pre-portioned treat.

From: grassfedsalsa.com
14. Salted Caramel Brownie Bites
Homemade fudgy brownie bites filled with an easy two-ingredient caramel filling and topped with sea salt.
These Salted Caramel Brownie Bites are the perfect mini dessert!
From: livewellbakeoften.com
15. Caramel Apple Bread Pudding
This fall inspired Caramel Apple Bread Pudding recipe, prepared with Hawaiian rolls & caramel sauce, is easy to make & delicious for breakfast or dessert!

From: whitneybond.com
16. Carrot Cake with Caramel Buttercream
This carrot cake with caramel buttercream is the perfect Christmas or Easter dessert!
This carrot cake recipe is so moist and tender. It's made with vegetable oil instead of butter.
Spiced up with some cinnamon and nutmeg too.
The frosting is a swiss meringue buttercream with a caramel sauce added to it. Plus, sandwiched between each cake layer is even more caramel!

From: cookiedoughandovenmitt.com
17. Salted Caramel Turtle Brownies
Easy Salted Caramel Turtle Brownies – The very BEST homemade fudge brownies topped with gooey caramel, sea salt, lots of chocolate chips and chopped pecans!

From: backforseconds.com
18. Ten Minute Microwave Caramels
Believe me, I was very skeptical about making caramels in the microwave.
So skeptical that I tested this recipe for Ten Minute Microwave Caramels several times before posting it here.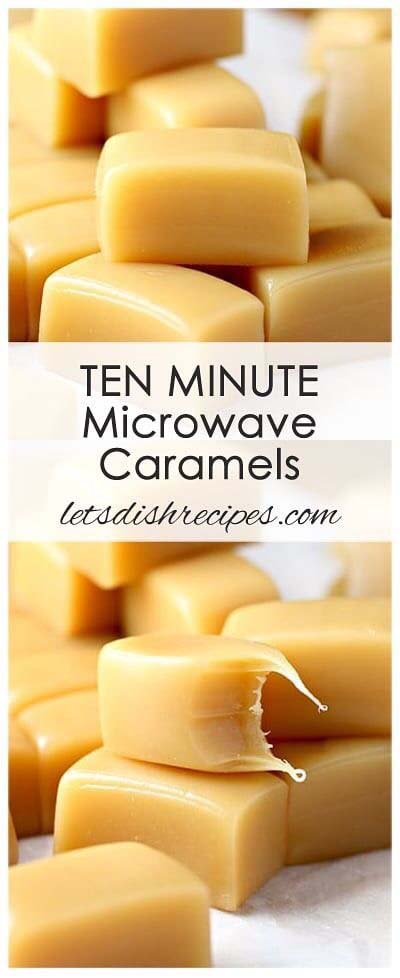 From: letsdishrecipes.com
19. Turtle Brownies
Sharing salted caramel turtle brownies today *in hopes* that you still have room left on your Christmas baking list.
And even if not, salted caramel turtle brownies will squeeze their salty, sweet, sticky, chocolate, fudgy selves onto your Christmas baking list anyway.
Also, so there's no confusion, turtles are those candy clusters with pecans, caramel, and chocolate.
There are no actual animal turtles in today's post.
From: sallysbakingaddiction.com
20. Caramel Creme Squares
Today's recipe is Caramel Creme Squares. It's a recipe my mom found a long time ago and we really like it.
It has graham cracker crumbs, cream cheese, butterscotch pudding, vanilla pudding, cool whip – and of course, CARAMEL!
I really love it. I think you'll like it too. My mom says that these cool, layered desserts are the best. I agree.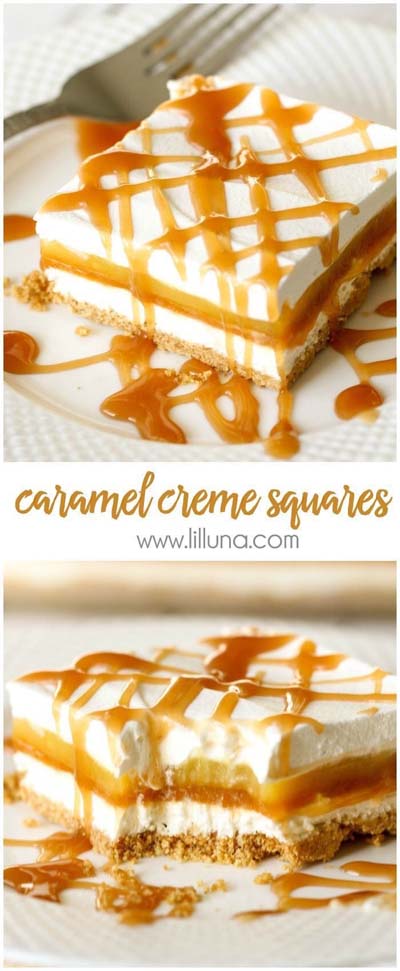 From: lilluna.com
21. Caramel Apple Cake
Kick off apple season with this delicious caramel apple cake!
A spice cake made with diced apples, paired with a caramel buttercream, and caramel drizzle.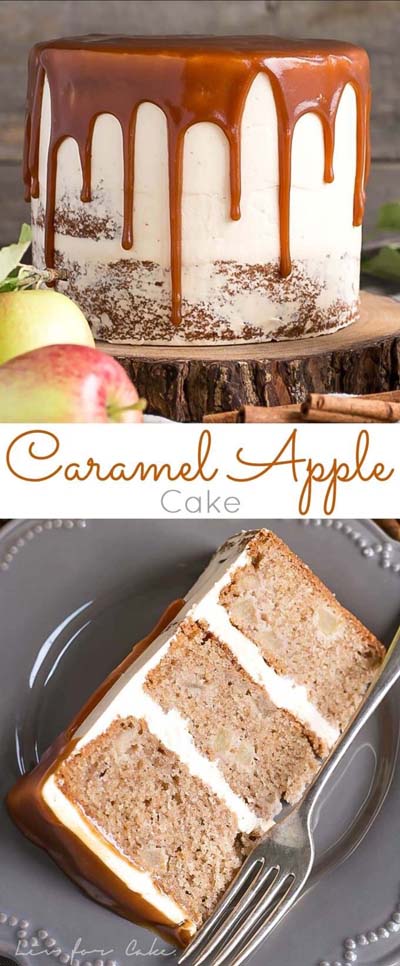 From: livforcake.com
22. Caramel Apple Crisp Cheesecake Bars
All the flavor of Caramel Apple Crisp Cheesecake, with none of the fussiness or work.
From: sugarapron.com
23. Pecan Caramel Bars
These Pecan Caramel Bars take just 15 minutes of work and you only need 5 ingredients!
Who doesn't love gorgeous easy homemade candy bars??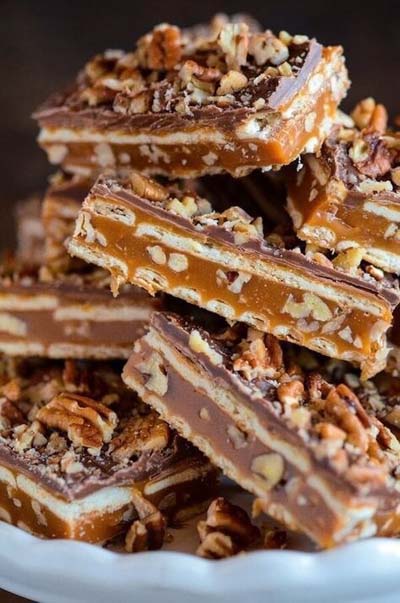 From: thenovicechefblog.com
24. Chocolate Covered Caramel Marshmallows
I'm obsessed with a few flavors – chocolate, peanut butter, coconut, lemon… and of course caramel.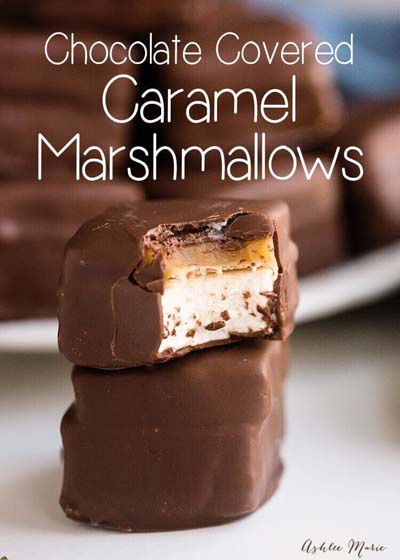 From: ashleemarie.com
25. Chocolate Caramel Pretzel Bars
These simple, 4-ingredient Salted Chocolate Caramel Pretzel Bars will quickly become your new favorite sweet and salty treat!
No bake and no candy thermometer needed.

From: tastesbetterfromscratch.com
[related_posts_by_tax]
Loved these Caramel Recipes? Then remember to pin it for later!
If you enjoyed this roundup of Carmel Recipes, remember to pin it to your Caramel Recipes board on Pinterest. That way you can easily find it when you want to.