Wow, your family and friends with these scrumptious Mac and Cheese Recipes.
With Christmas just around the corner, it is time to start thinking about all the fabulous dishes you will prepare. I  have selected 25  of the easiest, creamies, homemade mac and cheese recipes on Pinterest!
Mac And Cheese Recipes
I really hope you will enjoy this wonderful selection of Mac and Cheese Recipes to get some inspiration for the holiday season this year.
To view the full instructions for any of these Mac and Cheese Recipes, please click the link below each image.
Mac And Cheese Recipes
1. Ultimate Three Cheese Gruyere Mac & Cheese
Ultimate Three Cheese Gruyere Mac and Cheese is the best, sophisticated and cheesiest homemade mac and cheese ever!
Sharp white cheddar, coarsely grated Swiss-style Gruyere and dry Jack combine for the ultimate macaroni and cheese.

From: throughherlookingglass.com
2. Instant Pot Loaded Mac & Cheese
Make this Loaded Instant Pot Mac and Cheese Recipe right now! Piping hot elbow macaroni swimming in creamy cheddar cheese sauce. Sprinkled with buttery toasted golden breadcrumbs, smoky crispy bacon bits, and crunchy scallions. Indulge in this ultimate kid-friendly comfort food.

From: pressurecookrecipes.com
3. Cajun Shrimp & Crab Mac & Cheese
This Cajun Shrimp and Crab Mac and Cheese is super creamy, cheesy and decadent. This delicious spin to the classic dish will surely be your new favorite!
From: queensleeappetit.com
4. Instant Pot Mac & Cheese
Instant Pot Mac and Cheese is simple, creamy, cheesy, and delicious. Make this pressure cooker mac and cheese recipe fast in your electric pressure cooker, and all in one pot!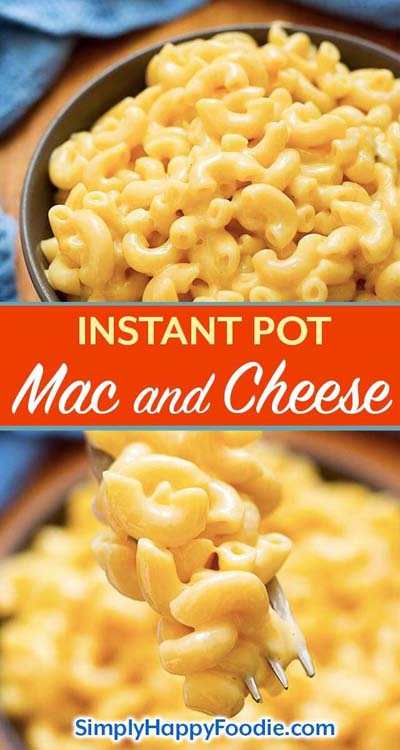 From: simplyhappyfoodie.com
5. One-Pot Chili Mac & Cheese
One Pot Chili Mac and Cheese – two favorite comfort foods come together in this super easy, one-pot dish that the whole family will go crazy for!

From: bellyfull.net
6. Cauliflower "Mac" & Cheese
Cauliflower "Mac" and cheese with a rich and creamy sauce.
A healthy, no pasta version that's low carb and keto friendly.
From: savorytooth.com
7. Spinach Artichoke Mac & Cheese
Spinach Artichoke Mac and Cheese combines the flavors of everyone's favorite dip with classic comfort food.
A surprisingly healthy all-in-one meal or stellar side.

From: wellplated.com
8. Southern Macaroni & Cheese
When we think of macaroni and cheese we always think of Grandma Carol's ultimate comfort food, her cheesy Southern Macaroni, and Cheese!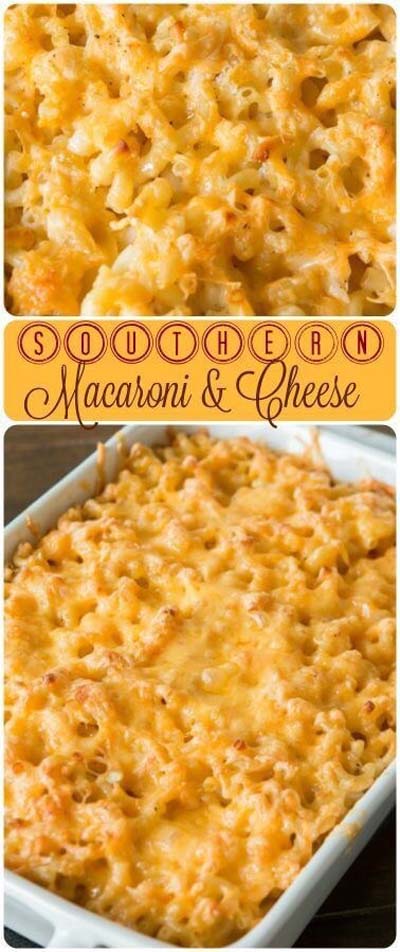 From: ohsweetbasil.com
9. Bacon Mac & Cheese Egg Rolls
Bacon Mac & Cheese Egg Rolls for Mac & Cheese Mania!
Creamy mac and cheese with crispy bacon are wrapped up in an egg roll wrapper, deep fried to perfection and is the best snack ever when dipped in barbecue sauce!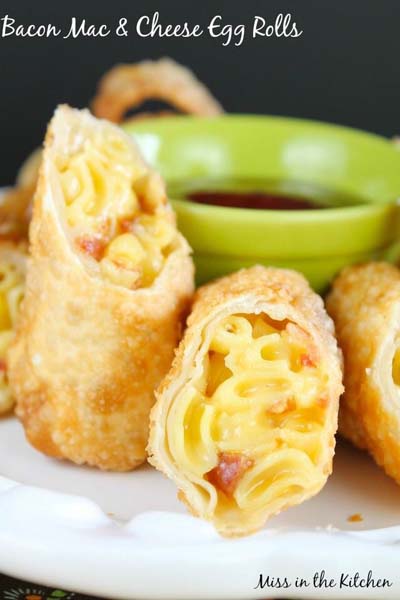 From: missinthekitchen.com
10. Jalapeno Popper Mac & Cheese
Put a twist on a classic jalapeño popper appetizer with this easy jalapeño macaroni and cheese!
An easy baked mac and cheese with white cheddar sauce, bacon, and breadcrumbs.
From: lifeasastrawberry.com
11. Fried Mac & Cheese Balls
A comfort classic that everyone will be fighting for! Crisp on the outside yet so soft, creamy and cheesy on the inside. YESSS!

From: damndelicious.net
12. Garlic Parmesan Mac & Cheese
This super creamy macaroni and cheese is flavored with garlic and parmesan cheese.
It is a more grown-up version of macaroni and cheese, but just as easy to make as the classic.

From: kirbiecravings.com
13. Buffalo Chicken Mac & Cheese
A creamy, spicy buffalo chicken mac and cheese topped off with a buttery toasted panko.
Be sure to check out the video just above the recipe for a super quick and easy visual how-to guide!

From: sugarspunrun.com
14. Stovetop Avocado Mac & Cheese
My avocado obsession continues, this time with Stovetop Avocado Mac and Cheese!
If you like our Creamy Avocado Pasta, you will love this decadent macaroni and cheese. It is basically the same delicious pasta but kicked up a notch.
Josh thought I was a little looney when I told him what we were having for dinner, but after one bite, he was in mac and cheese heaven.
If you are an avocado lover, you will go crazy for this macaroni and cheese!

From: twopeasandtheirpod.com
15. Mac N Cheese Breadsticks
Doesn't get more delicious than a plate of freshly baked breadsticks, huh?
WRONG! It does. These breadsticks are filled with mac 'n' cheese.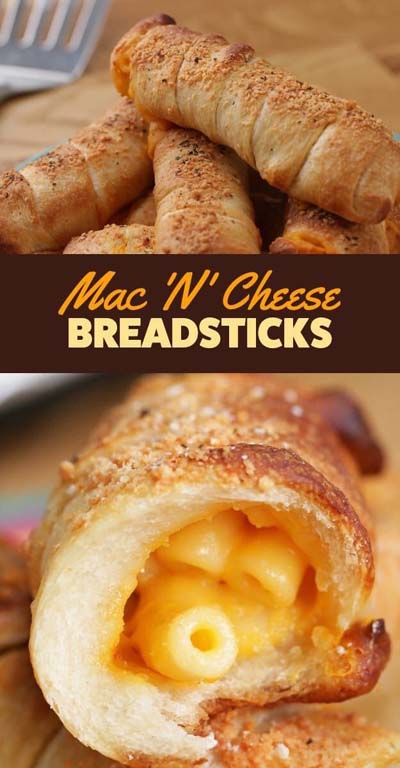 From: buzzfeed.com
16. Healthier Baked Mac & Cheese
This Healthier Baked Mac and Cheese is made with whole wheat pasta, low-fat milk, and chicken broth but is just as creamy and cheesy as ever!
It's a great make ahead meal for those busy weeknights!

From: thereciperebel.com
17. The Best Ever Truffle Mac & Cheese
I have never claimed to be a gourmet chef or an expert on food. But one thing I do claim?
Greg and I have the best truffle mac and cheese recipe.
I don't mean to brag (okay, maybe I do), but nothing I've tried out there comes close.
Since we made it for Thanksgiving I found it only appropriate to share it in hopes Y'all can try it for Christmas!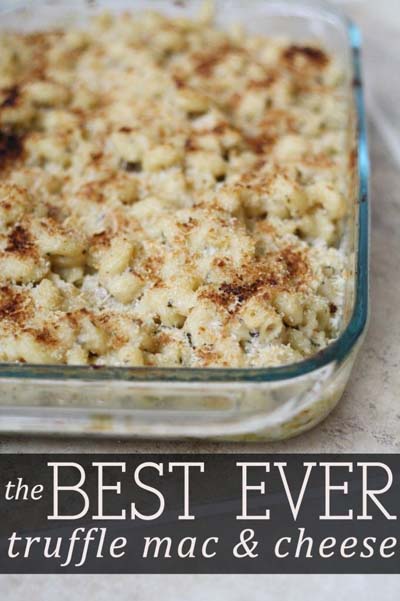 From: megoonthego.com
18. Pesto Mac & Cheese
This is basically green macaroni and cheese, but I thought 'pesto macaroni cheese' sounded slightly less weird.
Technically though it's not actually pesto, it's just a mixture of spinach, basil, and parsley.
I love macaroni cheese like it was my own child, but occasionally I fancy something a bit fresher tasting, rather than the usual cheese overload.
This version is the best of both worlds – still plenty of cheesy sauce, but the greenery helps to lighten it up and adds huge flavor.
From: amuse-your-bouche.com
19. The Best Homemade Mac And Cheese
Mac and cheese are one of those recipes that can take on so many different forms.
I love it any way I can get it but baked mac and cheese is my very favorite and I'll tell you why. The topping.
I use breadcrumbs for my topping occasionally, but, a Panko topped mac and cheese is just that much better.
From: momontimeout.com
20. The Creamiest Mac And Cheese Recipe
After years of searching (and making more boxed mac than I care to admit), I finally found the creamiest mac and cheese recipe around.
Super cheddary, rich, and made on the stove top in under 30 minutes, this is going to be making many more appearances on our family table.

From: neighborfoodblog.com
21. Perfect Southern Baked Macaroni And Cheese
This recipe for the perfect Southern Style Baked Macaroni and Cheese has been in the works for a while.
I am a huge fan of a Classic Mac and Cheese, so I really put a ton of time and effort in making sure I got it RIGHT, and I am really convinced this is the BEST macaroni and cheese recipe out there.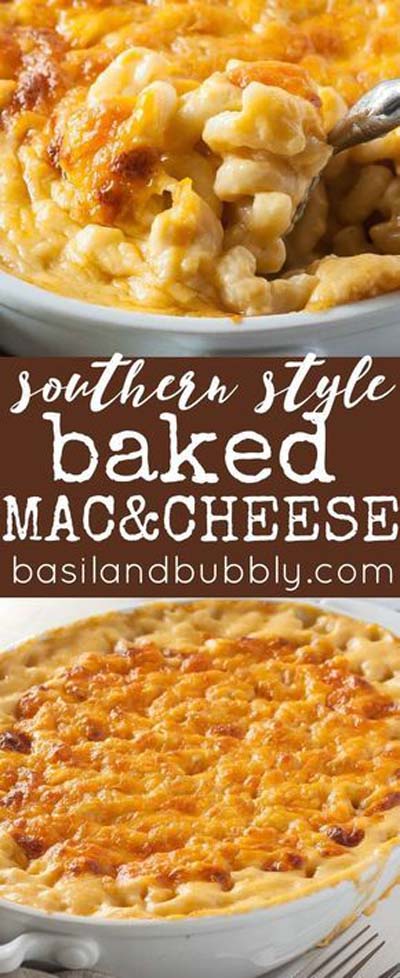 From: basilandbubbly.com
22. SUPER CREAMY MACARONI AND CHEESE
Super Creamy Macaroni and Cheese has always been a battle when it comes to working without processed/American cheese and this dish finally gets it right without compromising the creaminess.
This Super Creamy Macaroni and Cheese is the brainchild of one of my client's requests.
I started with a search for creamy macaroni and cheese that didn't use any Velveeta or American cheese and started experimenting.
From: dinnerthendessert.com
23. Creamy Garlic Parmesan Mac And Cheese
This Garlic Parmesan Mac And Cheese are better than the original!
A thick and creamy garlic parmesan cheese sauce coats your macaroni, topped with parmesan fried breadcrumbs while saving some calories and time!

From: bloglovin.com
24. MACK & JEEZY
Mack & Jeezy – seriously delicious mac and cheese recipe!!
No sauces to make. Just boil the pasta, stir in the cheese and bake.
Elbow macaroni, cottage cheese, egg, sharp cheddar cheese, salt, and paprika.
Served this at a dinner party and it was the first thing to go! SO good!!!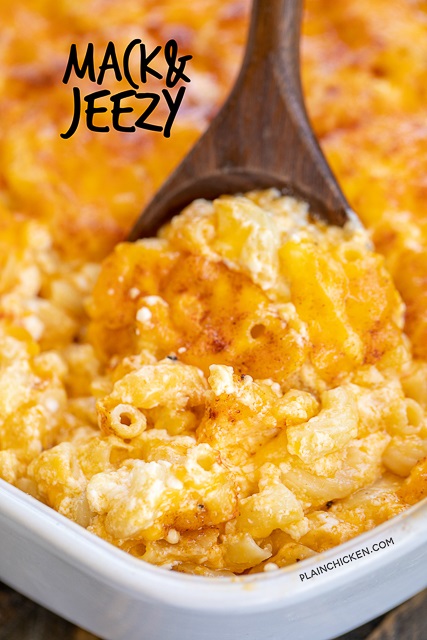 From: plainchicken.com
25. Cauliflower Mac And Cheese
This super healthy baked cauliflower mac & cheese is the ultimate lightened-up comfort food – with just 7 ingredients!
Even people who normally go for regular mac and cheese and have no interest in healthy eating whatsoever give it their passionate stamp of approval.
The recipe is a huge crowd pleaser!
From: chocolatecoveredkatie.com
[related_posts_by_tax]
Loved these Mac And Cheese Recipes? Then remember to pin it for later!
If you enjoyed this roundup of Mac and Cheese recipes, remember to pin it to your Mac And Cheeseboard on Pinterest. That way you can easily find it when you want to.