Every BBQ needs that one dish to impress the neighbors. Actually, they will rave about these BBQ dishes when you invite them to your next party. Enjoy these BBQ recipes!
BBQ Recipes
Appreciate this wonderful selection of BBQ recipes!
To view the full instructions for any of these BBQ recipes, please click the link below each picture.
1. BBQ Bacon Meatballs
There is nothing like having friends over for good company and good food.
I am constantly on the lookout for new recipes to try out for my summer parties.
So when I saw this incredible recipe for barbecue meatball onion bombs, I knew I'd be trying it at my next get-together.
From: beef.littlethings.com
2. Pork Belly Burnt Ends
I've heard of brisket burnt ends – you know, those magical morsels of beef amazingness.
But have you tried them with pork belly? This pork version is super tender, full of flavor, and so easy to make.
From: vindulge.com
3. Balsamic Garlic Grilled Mushrooms
Meat seems to get a lot of the spotlight with all of the summer grillings but let's not forget about the veggies as they are also great when grilled!
The smokiness and caramelization from grilling really bring out the flavors veggies making them so much better!
From: closetcooking.com
4. Bourbon Bacon BBQ Chicken Kebabs
We just got a new grill and I knew the first thing I cooked on it had to be something worthy. Since this recipe combines the glorious tastes of bourbon, bacon, and bbq sauce, I thought it fit the bill.

From: cookingwithjanica.com
5. Coffee-Rubbed Burgers
This coffee-rubbed, savory Angus beef burgers are rubbed with a rich and flavorful coffee seasoning mix.
Then, paired with peppered bacon and a completely delicious homemade Dr. Pepper BBQ sauce!
You'll be putting that sauce on everything!

From: thechunkychef.com
6. BBQ Brisket Grilled Cheese with Bacon Jam
I have never made brisket before. I have no clue why either.
What I can tell you that I was totally missing out.
Especially when you can turn it into something as delicious as this! It is so totally worth it.
From: itheecook.com
7. Best Ever Homemade BBQ Sauce
This will be THE BEST BBQ Sauce you ever have!
It is deliciously sweet and tangy with a flavor that can't be beaten and is super easy to make!

From: chef-in-training.com
8. Mango-Lime Grilled Chicken
Mango Lime Grilled Chicken features a sweet and spicy mango lime marinade that caramelizes perfectly on a hot grill.
It's perfect for your summer BBQ.

From: platingsandpairings.com
9. Chinese BBQ Pork Buns
Ah, childhood. When your parents seemed to know everything there was to know about everything, and you saw the entire world from a foot or two lower to the ground.
Eating Chinese BBQ Pork Buns or baked Cha Siu Bao was also part of that childhood!

From: thewoksoflife.com
10. Seriously Good Homemade Coleslaw
With a generous amount of acidity from apple cider vinegar and Dijon mustard, our favorite coleslaw is anything but dull.
Instead, our coleslaw recipe is packed with fresh, lively flavors that wake up anything you serve with it.
Try this as a topping to sandwiches, served next to ultra-savory meats, like braised beef or pork.
Or, mound some on top of your next hot dog or hamburger.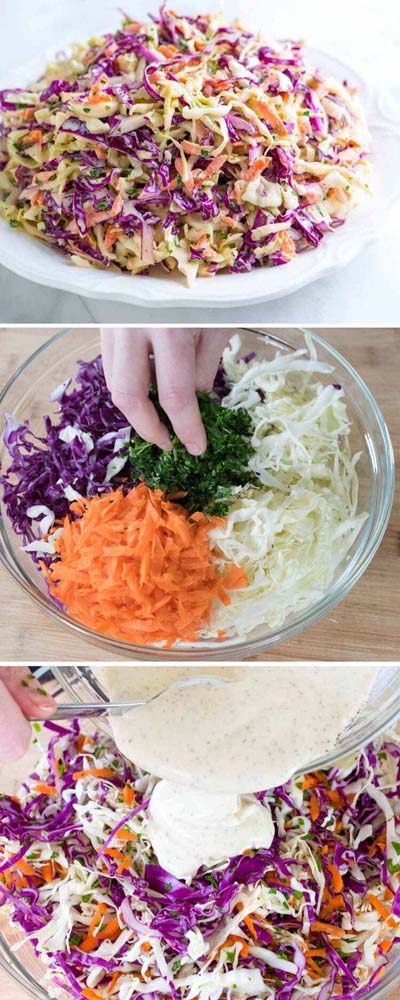 From: inspiredtaste.net
11. Cheesy BBQ Pork Taquitos with Chipotle Ranch
Cheesy Baked BBQ Pork Taquitos will be some of the best and easiest taquitos you ever make because they start with Slow Cooker Carnitas!
So, so juicy, flavorful, smothered in barbecue sauce and cheese with a wonderfully complementary Chipotle Ranch.
Awesome game day food or fun dinner any night of the week that you can make completely ahead and then pop in the oven!

From: carlsbadcravings.com
12. Maple Glazed Bacon Wrapped Roasted Carrots
Are you looking for a tasty side dish for an important meal? Boy, do I have one for you! These maple-glazed bacon-wrapped roasted carrots are super easy to make and oh so good!
The sweet and salty combo of the sweet roasted carrots and maple syrup and the salty bacon wrapping is simply divine!
From: closetcooking.com
13. The Most Amazing Parmesan Corn On The Cobb
Fresh and crunchy, Parmesan Chive Corn on the Cob is the classic side dish recipe – hot and buttery for your next BBQ. Grilled or baked, it is perfect served with ribs and chicken!
From: mustlovehome.com
14. Sweet & Sticky Chinese BBQ Pork
If you love sweet and sticky char siu as we do, give this recipe a go!
We also played around and gave it a little spicy kick by adding Korean pepper flakes. Why? Because we think sweet and spicy go hand in hand, don't you agree?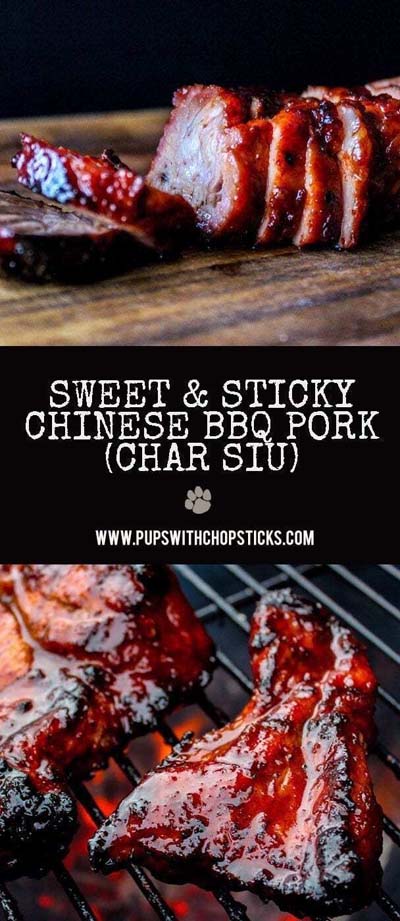 From: pupswithchopsticks.com
15. Sweet & Spicy Italian BBQ Grilled Chicken
Sweet and Spicy Italian BBQ Grilled Chicken – only 4 ingredients in the marinade! BBQ sauce, Italian dressing, chili powder, and red pepper flakes. Sweet and spicy!
SO delicious! We make this once a week. Everyone cleans their plate. The chicken is so juicy and has TONS of flavor! We never have any leftovers.

From: plainchicken.com
16. South Carolina-Style Mustard Barbeque Sauce
Condiments are key when eating Paleo, and BBQ sauce ranks high on the must-have condiment list.
While traditional barbecue sauces are red and tomato-based, this bright yellow BBQ sauce reigns from South Carolina and is mustard-based.
Carolina mustard sauce may appear different than red BBQ sauce, but they both exude flavors of tang, sweetness and bite.
From: paleoleap.com
17. Japanese Yakitori Chicken
Yakitori is one of the oldest and most popular traditional Japanese dishes.
It's a casual dish, great for after work with a beer or for a laid-back party.
Bite-sized pieces of chicken, chicken parts, meat or vegetables are skewered and cooked over a charcoal grill or an open flame and glazed with a sweet teriyaki sauce.
If you're looking for a tasty festive recipe – something to throw on the grill and enjoy with family and friends, yakitori chicken is a great choice!

From: panningtheglobe.com
18. Prosciutto Wrapped Asparagus
The easiest, tastiest appetizer with just 2 ingredients and 10 min prep!

From: damndelicious.net
19. Smoked Pork Shoulder
One of the easiest and most delicious meals you can prepare is a good smoked pork shoulder.
I have smoked countless pork butts but every time I pull one off the grill/smoker it's like Christmas and I am 8 years old.
If you want to impress your friends, have them over for some of the best-smoked BBQ they have ever had.
From: dontsweattherecipe.com
20. Auf Die Faust Texas Chili Dog
(Not English) A hot dog is not exactly an ambassador for the low-carb recipes.
That does not make a rich chili-bacon-cheese topping in a bun any better. But let's be honest: It tastes just damn delicious.
And this Texan hot dog has it all! A spicy crispy fried Krakauer, pickled gherkins, fiery chili and melting cheese, crammed together in a buttery brioche bun.
Of course, the chili is typically American and is refined with bacon, black beer, and Teriyaki sauce.
From: springlane.de
21. Cheddar Bacon BBQ Grilled Potatoes
An instant classic with delicious flavor and a major crowd-pleasing effect.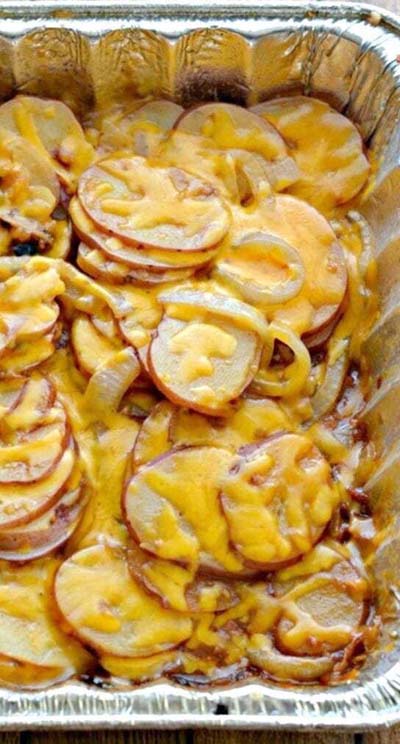 From: justapinch.com
22. Honey BBQ Chicken Wraps
Honey BBQ Chicken Wraps made with crispy baked chicken smothered in a simple homemade honey bbq sauce.
From: tastesbetterfromscratch.com
23. Sticky-Glazed Sausages & Onion Rings
Wow! Now, this picture is worth 1 million words…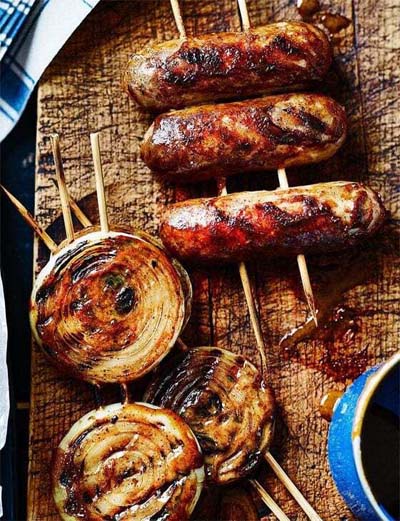 From: sainsburysmagazine.co.uk
24. Honey and Beer Glazed BBQ Chicken
Incredibly delicious Beer and Honey BBQ Chicken Skewers that are perfect for a weekend or even a busy weeknight.
Just prepare the night before, let them marinate overnight and grill when ready.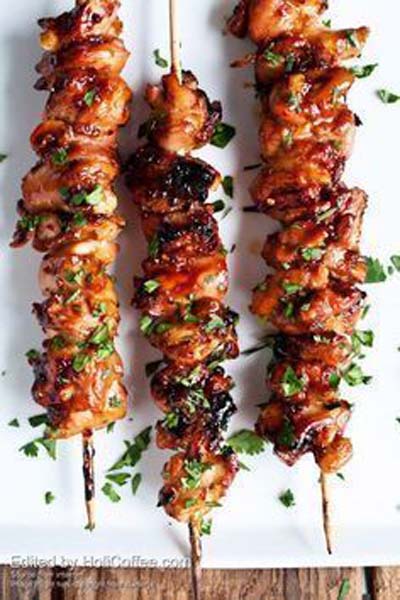 From: jocooks.com
25. Grilled Thai Peanut Chicken Skewers
These Thai Peanut Chicken Skewers are easy to make and much healthier than getting takeout!
The sauce is amazing – you HAVE to try it!

From: savorynothings.com
[related_posts_by_tax]
Loved these BBQ Recipes? Then remember to pin it for later!
If you enjoyed this roundup of 26 BBQ Recipes, remember to pin it to your food board on Pinterest.