Put an egg on it and you have a meal!  One egg has only 70 calories, 7 grams of high-quality protein, 5 grams of fat, and 1.6 grams of saturated fat, along with iron, vitamins, minerals, and carotenoids. That's so much goodness in just 1 little egg, right?!
All important nutrients within the egg can support a healthy growth, and development of children, also add muscle mass. A perfect protein source with all the essential amino acids in the right amounts, that our body needs.
Whole eggs are among the most wholesome foods on the planet, containing a little bit of almost every nutrient we need to live.  Of course, omega-3 enriched or eggs from free-range chickens are even healthier.
The antioxidants Lutein and Zeaxanthin are very crucial for eye health and eggs are high in both of them. It can help prevent cataracts and macular degeneration.  If you were ever hesitant, start today and put an egg on it!
So, if you want to jazz up your breakfast – Put an egg on it:
Maple Roasted Sweet Potato & Sausage Hash:
Ingredients:
1 yellow or orange bell pepper, chopped
1 package apple chicken sausages, cut into thick slices
3 large sweet potatoes, chopped into 1/2 inch pieces
1 1/2 Tablespoons coconut oil
3 Tablespoons real maple syrup
1 teaspoon Nielsen Massey pure vanilla extract
1 teaspoon smoked paprika
Salt and pepper
4 eggs
To see the directions on this recipe, please follow the link beneath the picture.
Eggs Benedict Open-Faced Sandwich:
Ingredients:
1 slice Pepperidge Farm® Whole Grain 15 Grain Bread, toasted
4 slices Hillshire Farm® Thin Sliced Honey Ham
Arugula (optional)
3 tablespoons Hellmann's® Real Mayonnaise
2 teaspoons dried rosemary, minced
2 eggs, poached
For complete directions, please follow the link beneath the picture.
Eggs in a Hole:
Recipe — Eggs in a Hole
2 pieces of your favorite bread
2-3 tablespoons butter, softened
2 eggs
salt & pepper
red pepper flakes
favorite hot sauce, like Secret Aardvark
cheddar cheese, optional
For directions please follow the link beneath the picture.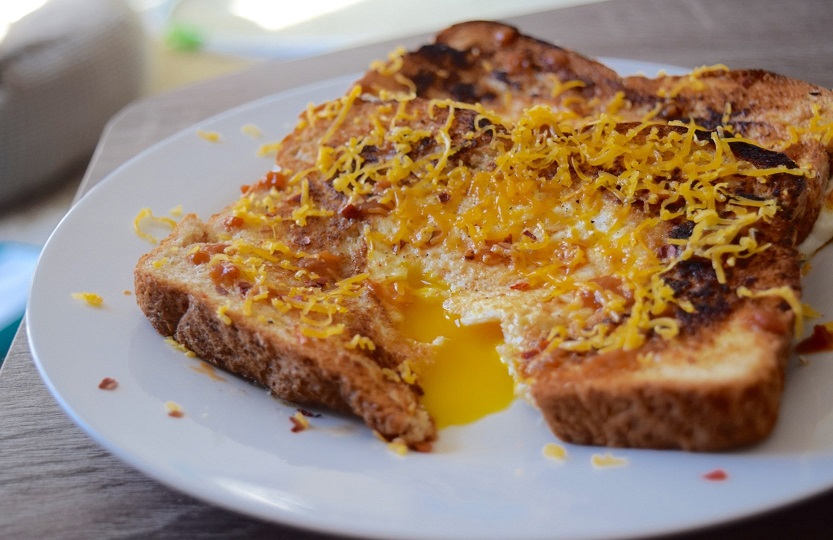 Quinoa kale pesto bowls with poached eggs:
Ingredients
* 1 cup quinoa
* ½ cup kale pesto (to make kale pesto use this recipe)
* Zest of one lemon
* Juice of ½ lemon
* 4 eggs
* 2 tablespoons chopped walnuts
* 1 tablespoon fresh chopped parsley
* 1 teaspoon red pepper flakes (adjust to taste)
Follow the link beneath the picture for full instructions.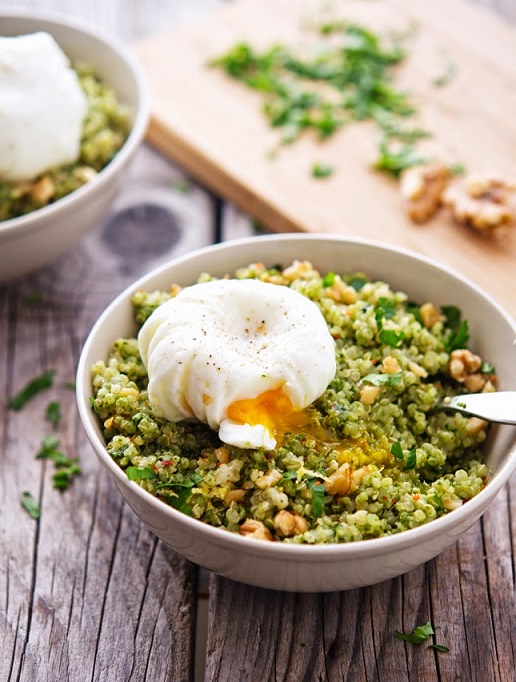 Rice bowl with Fried Egg and Avocado:
Ingriendnts:
4 scallions, thinly sliced

2 cups cooked brown rice

1 teaspoon red wine vinegar

Kosher salt, freshly ground pepper

3 tablespoons olive oil

4 large eggs

1 avocado, chopped

Hot sauce (for serving)
Please follow the link beneath the picture for instructions.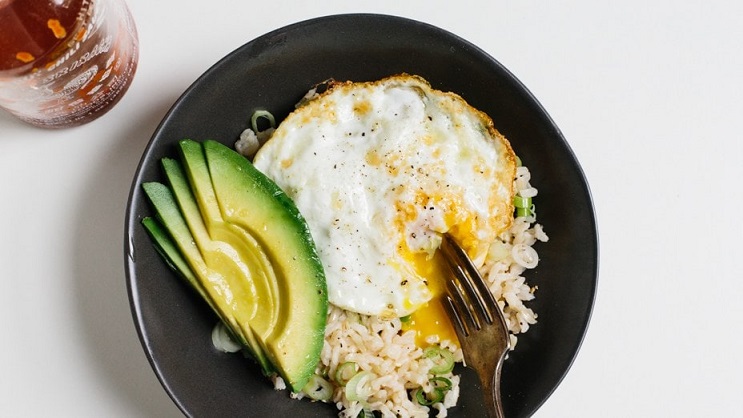 Salmon and avocado Caesar salad:
Pan-fried Salmon fillets with creamy avocado slices, crunchy croutons, and parmesan cheese slices. And of course, a perfectly runny poached egg to go with it.
Kimchi Udon stir fry:
This is a really quick dish to prepare, as it only takes about 15 minutes to prepare.  Sweet, nutty and spicy kimchi udon stir fry that everybody will love!
Polenta bowl:
2 heaping cups mixed mushrooms, thinly sliced
1 shallot, thinly sliced
Olive oil
1 teaspoon dried thyme
2-3 cups packed spinach leaves, roughly chopped
3/4 cup instant polenta
2 cups water, depending on how thick you like your polenta*
2 organic, free range eggs
Water for poaching
Salt and Pepper
A few handfuls fresh chervils, roughly chopped
Freshly grated lemon zest, for serving
Please click thru to this Bloggers site for full instructions!
Sweet Potato, Sage, and Fried Egg Tacos Recipe
With a large stash of really great tortillas in my fridge at all times, I wind up making a lot of tacos. My favorite in recent memory are these sweet potato tacos flavored with sage and topped with sliced radish, cilantro, crema, and a fried egg. Great for breakfast, but really good any time of day.
 Breakfast pizza:
Homemade breakfast pizza with bacon, eggs, tomatoes, spinach, and cheese, made completely from scratch and ready in less than 30 minutes!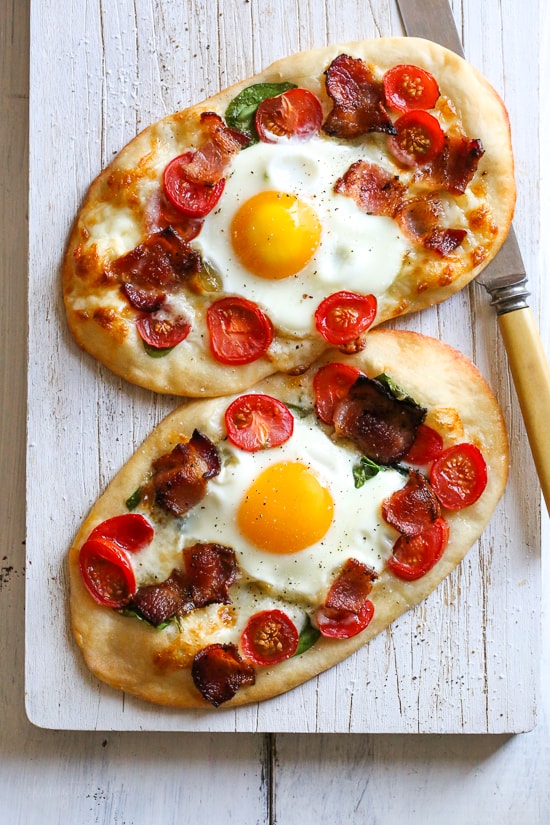 Hope you enjoyed this guide of 10 delicious recipes to put an egg on it! To keep it available to you at all times, save this pin to your Breakfast or Brunch board on Pinterest.  You can also follow me on Pinterest, for more recipes and ideas!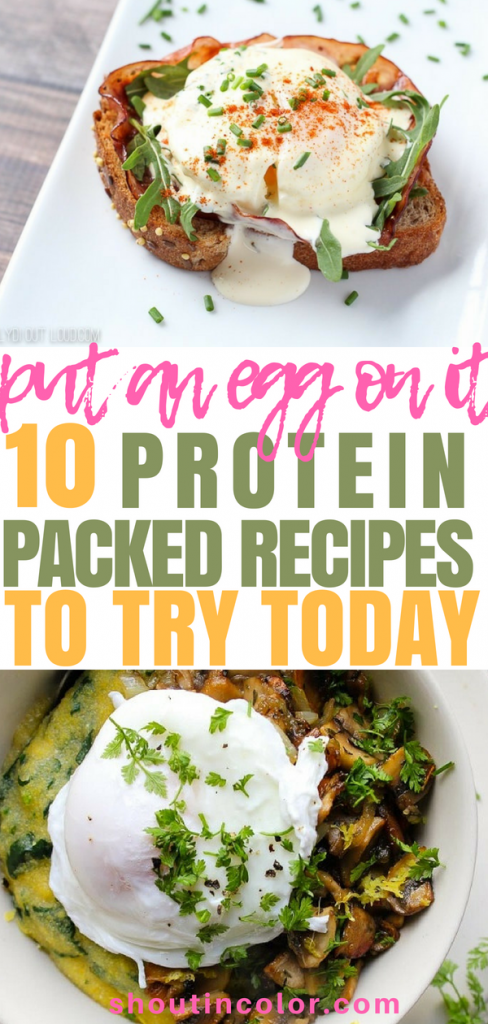 Take a look at all these wonderful Recipes I have lined up:
22 Desserts In A Jar You Just Have To Try
Butternut Squash Recipes You Will Actually Use
16 Easter Desserts That Your Family Would Love
10 Easy Instant-Pot Meals That Your Family Would Love