All of these Valentine's day desserts are perfect for this important holiday. Surprise your significant other with something sweet this Valentine's Day.
With Valentine's day just around the corner, it is time to get creative and plan something romantic. I  have a selection of easy,  homemade,  Valentines Day Desserts to impress your loved ones.
Valentines Day Desserts
Hope you will enjoy these wonderful Valentine's day desserts.
To view the full instructions for any of these Valentines Day Desserts, please click the link below each image.
1. Valentine Cookie Pops
Growing up, our mom always made Valentine's Day so special.
She would buy us our own mini box of chocolates, with a glass bottle of cream soda and these cute Valentine Cookie Pops!
It is still something I look forward to every year when I go home around Valentine's day.
Such a fun tradition to pass onto the kids, and they seriously take minutes to make!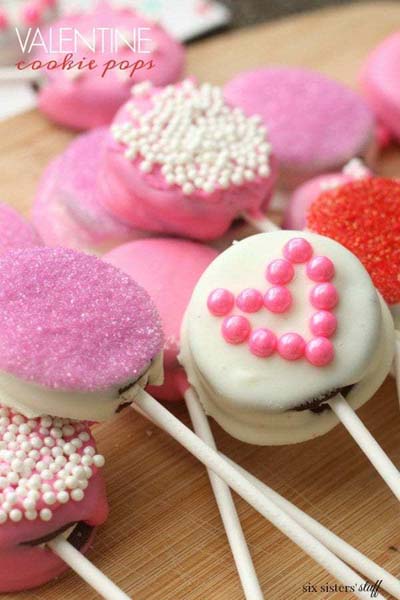 From: sixsistersstuff.com
2. Red Velvet Crinkle Cookie
Red Velvet Crinkle Cookies – a six-ingredient, red velvet cake mix cookie doused in powdered sugar and baked to crinkle superbness.
Perfect for red velvet enthusiasts.
From: sarahsbakestudio.com
3. Chocolate Sugar Cookies
Soft chocolate sugar cookies topped with whipped vanilla buttercream to delight your sweet tooth!
From: completelydelicious.com
4. Red Velvet & Strawberry Trifles
A big plus is that these could be assembled ahead of time, so if you are having a romantic dinner at home for Valentine's Day, dessert is not only easy, but it will be ready ahead of time!!
From: tasteandtellblog.com
5. Skillet Cookie Cake
I love this recipe because you can mix in whatever cookie additions you love the most. It's also a really fun and unique way to serve a cookie.
PLUS, you can even add a big scoop of vanilla ice cream, and it makes total sense.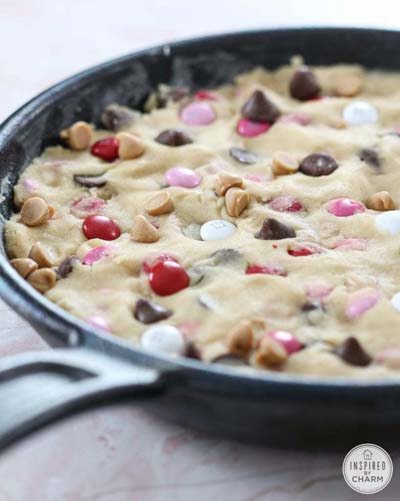 From: inspiredbycharm.com
6. Marbled Valentine Sugar Cookies
Classic homemade sugar cookies with a fun marbled twist. Such a festive treat or the whole family!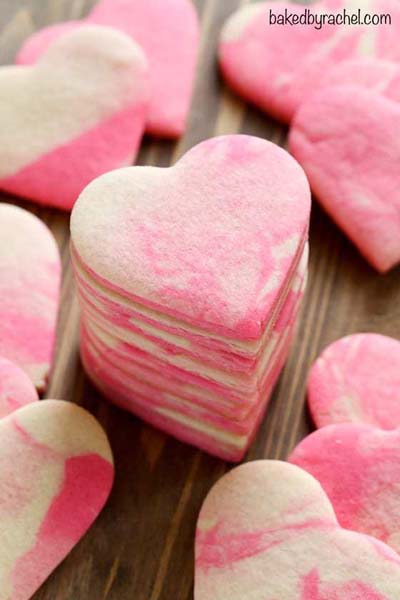 From: bakedbyrachel.com
7. XOXO Rice Krispie Treats
Looking for a way to say I love you this Valentine's Day?  These XOXO Rice Krispie Treats will do it.
They are an easy and delightful way to show your family and friends how much you love them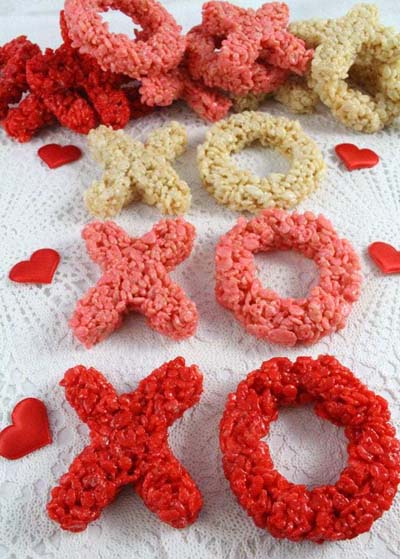 From: twosisterscrafting.com
8. Soft Batch Sprinkle Cookies
These cookies are super easy to whip up. Soft, sweet, chewy, cookies rolled in your favorite sprinkles!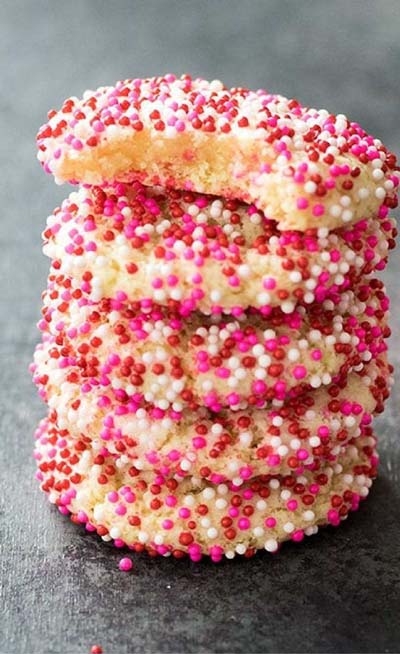 From: bloggerbests.com
9. Valentine's Pretzel Buttons
These are one of my kids' favorite treats. And mine, too! They are pretty to look at, are quick and easy, and are the perfect salty/sweet combo.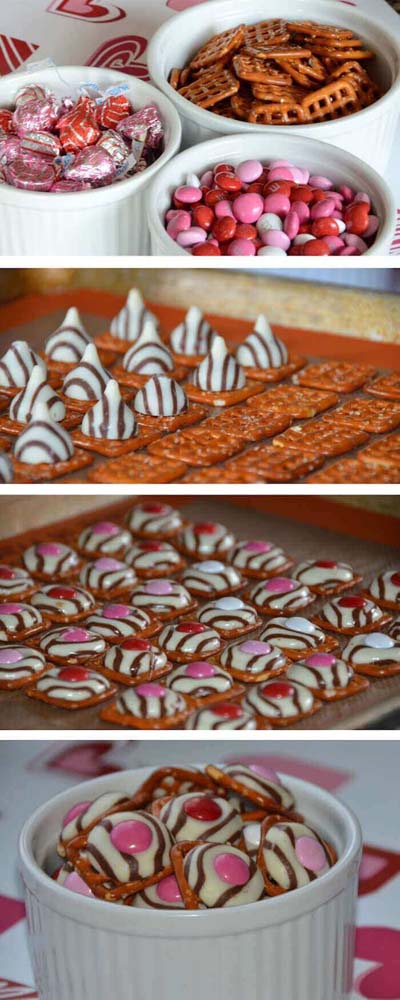 From: griffithsrated.blogspot.com
10. Chocolate Dipped Wafer Cookies
They are probably one of the easiest treats you can make and still call homemade….cause you know…you made them at home :)!
We used pink wafers because my daughter picked them…and they are perfect for Valentine's Day.
But they would also be great in the other colors and flavors.
From: theidearoom.net
11. Reese's Peanut Butter Valentine's Heart
Valentine's Day is just around the corner. And you are probably looking for fun and tasty Valentine's treat to make.
Stop looking! This Chocolate Peanut Butter Valentine's Heart recipe is super simple and easy to make.
But these cute chocolate peanut putter hearts are melt-in-your-mouth good!!!
From: omgchocolatedesserts.com
12. Valentine's Day Sugar Crackers
I have made it my own personal mission to create this recipe for Valentine's.  Of course, the taste and recipe are the same, I have just switched up the color chocolate and decorations in honor of Valentine's Day.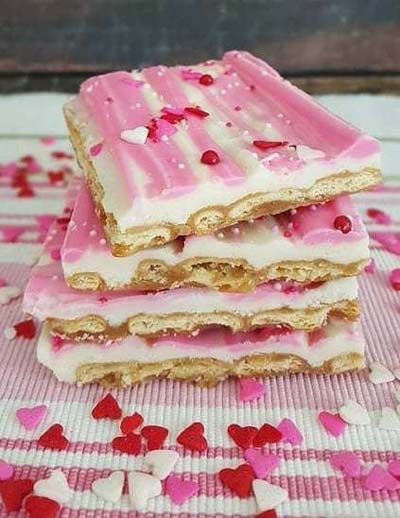 From: sparklestosprinkles.com
13. Red Velvet Cheesecake Brownies
Nothing says "Valentine's Day" like a confection that's the color of love.
And, quite appropriately, also the color of the devil, given that these square sweets are so dang addicting your taste buds will sing while your skinny jeans shriek.
From: justataste.com
14. Nutella Deviled Strawberry
Strawberries + Nutella is something everyone should enjoy every hour of every day. Forreals.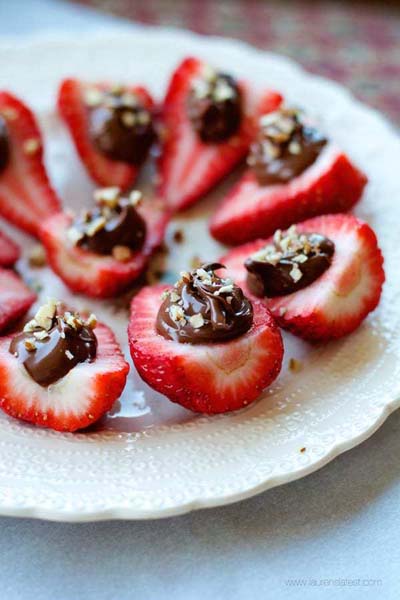 From: laurenslatest.com
15. Pink Velvet Hot Chocolate
This quick and easy pink velvet hot chocolate recipe is the perfect treat for Valentine's Day!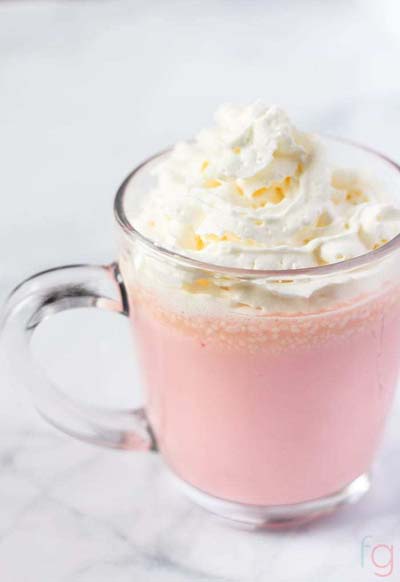 From: savorandsavvy.com
16. Strawberry Lemonade Cake Bites
I made this Strawberry Lemonade Cake Bites right at home – and they weren't too hard to make at all!
They are perfectly sweet with just a hint of sour – and they're the perfect color for Valentine's Day.
From: sixsistersstuff.com
17. Strawberry Mousse Cheesecake Parfaits
Layers of no-bake cheesecake, cookies, and pie filling make these Strawberry Mousse Cheesecake Parfaits a fun and easy treat to make for your loved ones.
Grab a spoon and get ready to dive in.
From: insidebrucrewlife.com
18. Raspberry Chocolate Chip Cookies
Raspberry Chocolate Chip Cookies are absolutely amazing! Adding fresh raspberries to a delicious classic cookie recipe makes such a delicious difference!
From: butterwithasideofbread.com
19. Red Velvet Waffles with Cream Cheese Glaze
Today I'm sharing with you a little Valentines Day inspiration idea.
While there are countless stories on the origin of the idea for Red Velvet,  all can agree the flavor is chocolate and the color is red.
From: keviniscooking.com
20. Chocolate Covered Strawberry Puppy Chow
Simple 6-ingredient puppy chow made with white chocolate-coated crispy cereal, tossed in sweet strawberry cake mix, sprinkles, and powdered sugar, with a final drizzle of dark chocolate!
From: abajillianrecipes.com
21. Chocolate Strawberry Oasis Pie
Inspired by the movie Waitress, this pie would make old Joe proud: with a black-bottom chocolate cookie crust, creamy spiced chocolate custard filling, and plenty of fresh strawberries.
From: loveandoliveoil.com
22. Strawberry Cream Cheese Breakfast Pastries
A simplified, perfectly tasty pastry recipe! Made with a flaky layer of store-bought puff pastry, creamy, tangy sweetened cream cheese and fresh strawberries.
Who wouldn't love these?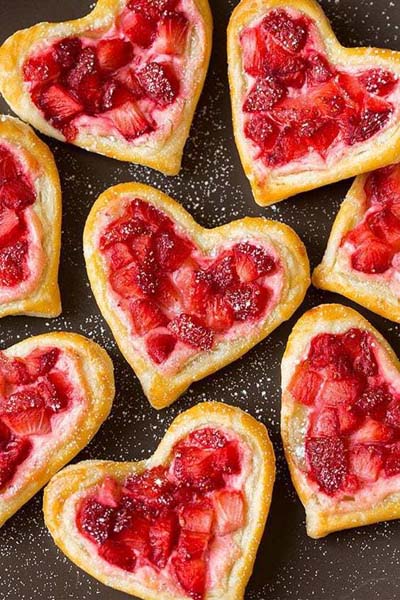 From: cookingclassy.com
23. Cherry Cream Cheese Hand Pies
These little pies are perfect for date nights – like Valentine's day!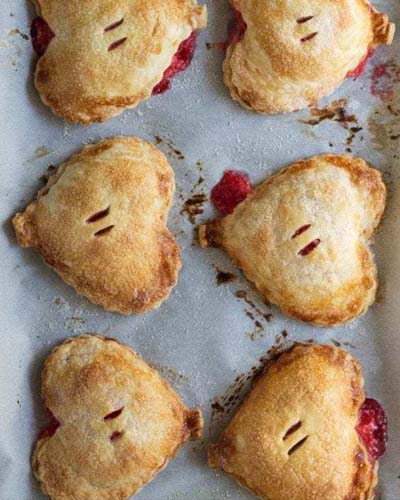 From: cocoandash.com
24. Sweetheart Cinnamon Rolls
Who says cinnamon rolls are only for breakfast.  NOT ME!  I added them to my Valentine's Day Dessert Table!  They were a huge hit!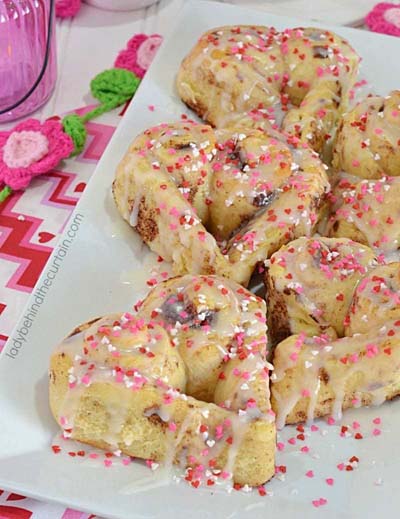 From: ladybehindthecurtain.com
25. Valentine's Amaretto Truffles
I never celebrate Valentine's Day in any particular way, but I do like to give and receive thoughtful, handmade gifts and Valentine's Day is just as good an excuse as any.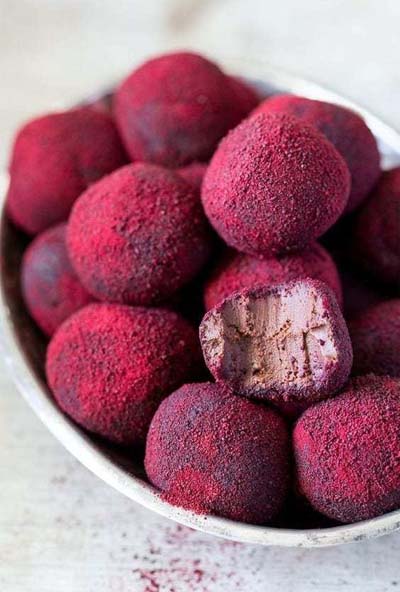 From: lazycatkitchen.com
26. Raspberry Cheesecake Brownies
And these raspberry cheesecake brownies?  They are perfect for Valentine's Day treat.
A fudgy, chocolatey brownie base topped with a creamy raspberry cheesecake layer.
From: bake-eat-repeat.com
27. Valentine's M&M Cookie Bars
These Valentine's Day M&M Cookie Bars are perfect for a crowd or a classroom.
They can be cut smaller to serve more, or cut larger for a pretty presentation.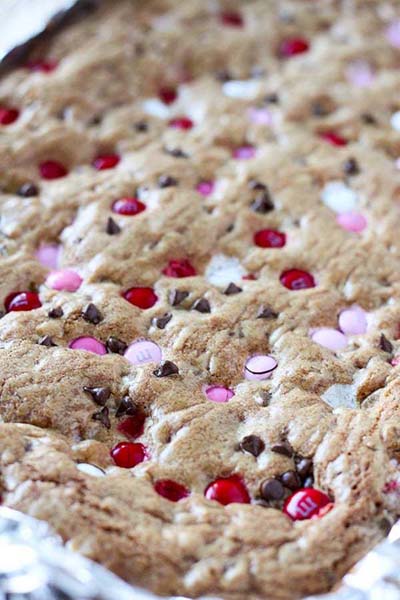 From: number-2-pencil.com
28. Red Velvet Cake Bites
These Red Velvet Cake Bites are the perfect festive dessert, all year long, but especially during the holidays.
If you are looking for a rich and delicious dessert, this is the one you need to try. They are out of this world.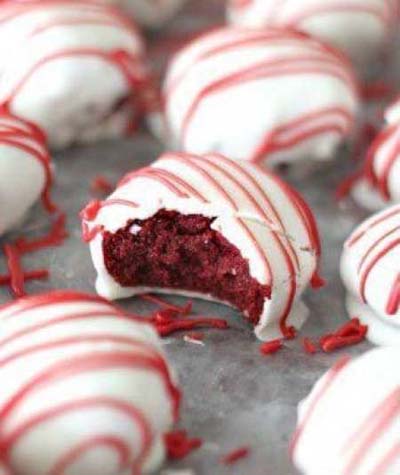 From: sixsistersstuff.com
29. Red Velvet Sugar Cookies
Um, it's Valentine's Day and I just can't resist a festive dessert for two. It's just how I roll.
From: dessertfortwo.com
30. Love Bug Oreo Cookies
Love Bug Oreo Cookies – delish Hot & Spicy Cinnamon Oreos dressed to impress for Valentine's Day.
From: sarahsbakestudio.com
[related_posts_by_tax]
Loved these Valentines Day Desserts? Then remember to pin it for later!
If you enjoyed this roundup of  Valentines Day Desserts,  remember to pin it to your Holiday recipes board on Pinterest. That way you can easily find it when you want to.