Impress your family and friends with these delicious Christmas Cupcakes!
With Christmas just around the corner, it is time to start thinking about all the fabulous sweets and dessert you have to prepare.
I  have selected 25  of the scrumptious Christmas Cupcakes on Pinterest. These recipes are easy and really simple to prepare!
Christmas Cupcakes
I do hope you will enjoy these wonderful Christmas cupcakes to get some inspiration for your own Christmas party this year.
To view the full instructions for any of these Christmas Cupcakes, please click the link below each image.
1. Santa Hat Cookie Cups
We are currently obsessed with cookie cups, it's a fun take on one of our most favorite things … Sugar Cookies with Buttercream Frosting.
We knew we wanted to make a fun version for Christmas and came up with the idea for a Santa Hat Cookie Cup.
They turned out exactly how we envisioned.  They were pretty easy to do, and I know will be super popular at our cookie exchange this year.
2. Christmas Chocolate Cupcakes
It's Christmas, the most wonderful time of the year.
Enjoy these delicious cupcakes to get you in a festive mood.
From:cupcakeando.com
3. Christmas Darling Cupcakes
These Christmas Darling Cupcakes are totally adorable and easy to make.
Christmas darling cupcakes made with an embellished chocolate cake mix and the best vanilla buttercream frosting.
So Yummy!! These darlings are perfect Christmas dinner treat and best wintertime snacks.
From:stunningcollection.blogspot.com
4. Mickey Mouse Santa Hat Cupcakes
We were thinking about the holiday baking that we wanted to do this year, it occurred to us that our Mickey Ears Cupcakes would look adorable as a Santa Hat.
And boy were we right.  I think these Mickey Mouse Santa Hat Cupcake are my favorite Christmas Cupcakes that we have ever made!
From:twosisterscrafting.com
5. Snowman Cupcakes
These Santa Cupcakes are so simple, cute and quick for serving up for the holidays.
If you are like me you are still planning last-minute Christmas desserts. These simple and cute Santa Cupcakes will come together with very little effort.
They are so simple you can even have your kiddos help with decorating up the cute Santa faces.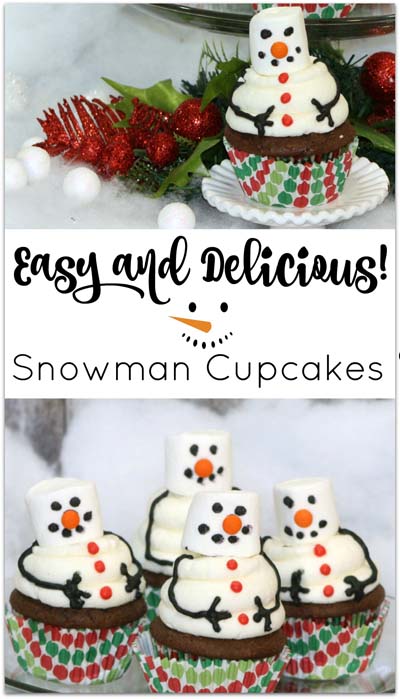 From:kellystilwell.com
6. Rudolph The Red Nosed Reindeer Cupcakes
Who is Santa's best friend? Elf on the Shelf? Frosty? Rudolph?
Personally, I think it is Mrs. Claus. She lives in perpetual winter and puts up with elves, snowmen, and reindeer, all because of loving Santa. Plus, she bakes Santa sweet treats…
From:spaceshipsandlaserbeams.com
7. Minion Christmas Tree Cupcakes
Make these Minion Christmas Tree Cupcakes make the festive season complete! This recipe is bound to make the holidays extra special.

From:cutefetti.com
8. Adorable and Easy Reindeer Christmas Cupcakes
During our baking extravaganza this weekend, Sam and I created darling reindeer cupcakes.
As always, he enjoyed helping me measure and mix but his favorite part was giving the reindeer their expressions.
From:spaceshipsandlaserbeams.com
9. Easy Fondant Candy Cane Cupcakes
Candy canes always make the holidays more festive!
These adorable, easy, fondant candy cane cupcakes celebrate that with amazing taste and vibrant colors.
We all need some extra cupcakes in our lives on occasion!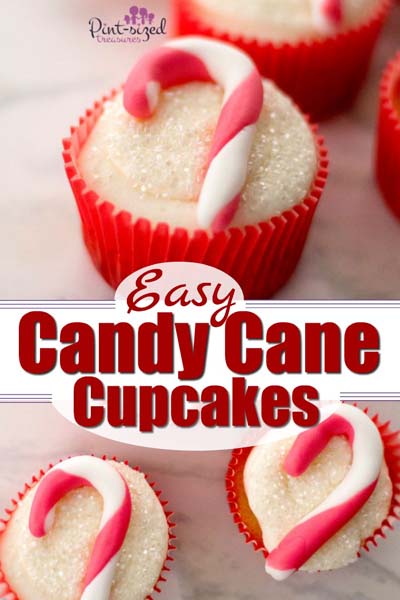 From:pintsizedtreasures.com
10. Easy Christmas Santa Hat Cupcakes
Santa hat cupcakes are made by topping cupcakes with red sugar cones and a mini marshmallow.
These fun and easy Christmas cupcakes will definitely be a hit!
From:crayonsandcravings.com
11. Naughty Santa Butt cupcakes
These Hilarious Santa Butt Ding dong cakes are perfect for a funny Office party food.
The grownups will have a giggle at this festive joke. Poor Santa.  These cakes are great for taking to Christmas parties and festive outings.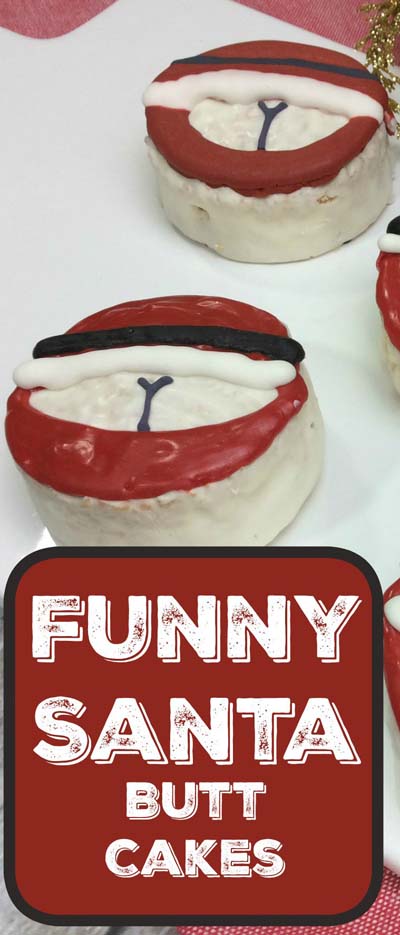 From:ediblecrafts.craftgossip.com
12. Santa In The Snow Cupcakes
Just a few more weeks until Christmas and it's the perfect time to try out some Christmas cupcakes.
Aren't these Santa in the Snow Cupcakes fun?
From:spaceshipsandlaserbeams.com
13. Snow Globe Cupcakes
These gorgeous Snow Globe Cupcakes are topped with edible gelatin bubbles.
That's right–you can eat both the cupcakes AND the globe! They look so amazing and impressive, and are perfect for the holidays!
From:sugarhero.com
14. Christmas Swirl Cupcakes
I was searching through Pinterest one night looking for some good Christmas baking ideas.
And I came across a pin where they used three different frosting colors to make a Napoleon cupcake.  I thought it was super cute and knew I wanted to recreate it with Christmas colors.
It was a pretty easy project and we think it turned out beautiful.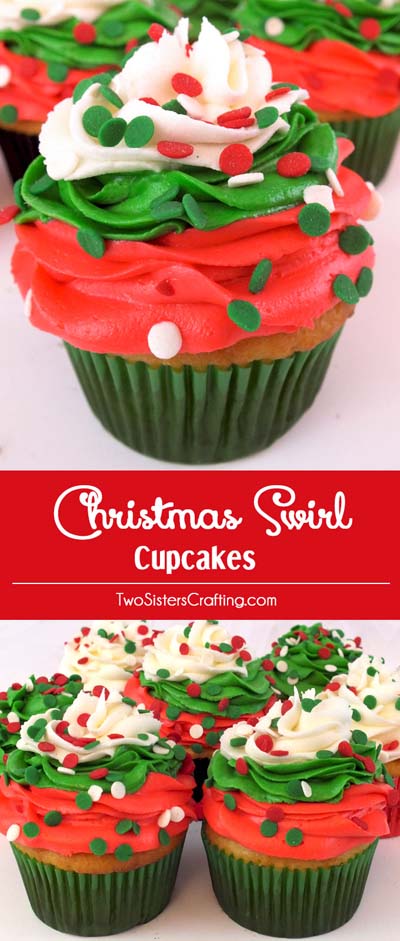 From:twosisterscrafting.com
15. Ultimate Chocolate Reindeer Cupcake
This Christmas if you are going to decorate cupcakes, you might as well make them adorably cute, decadently rich, and amazingly good like these Chocolate Reindeer Cupcakes.
From:hungryhappenings.com
16. Snowman Cupcakes
I made some sweet snowman cupcakes this weekend and it kinda looks like it's been snowing powdered sugar in my kitchen.
These snowman heads were inspired by one of my new and now absolute favorite Christmas decorations.
From:bakerella.com
17. Chocolate Peppermint Cupcakes
This week my husband asked if I could make some Chocolate Peppermint Cupcakes for him to bring into work.
My husband's co-workers are often the recipients of my baking trials and triumphs, and always seem more than happy to eat my "experiments".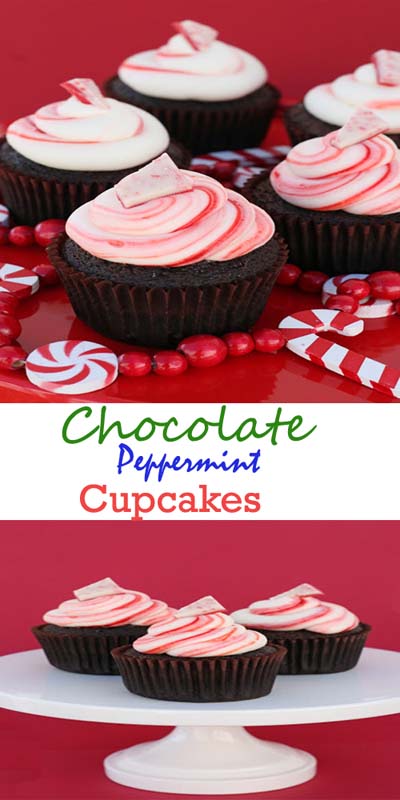 From:glorioustreats.com
18. Christmas Tree Cupcakes
Gingerbread houses, meet your match.
These festive Christmas Tree Cupcakes serve a similar function as part dessert, part decoration for your holiday table.
Moist chocolate cupcakes become the base of spruced up sugar cones adorned with bright green frosting and edible silver sprinkle ornaments and, the piece de resistance, a light dusting of powdered sugar snow.

From:justataste.com
19. Marshmallow High Hat Cupcakes
Marshmallow High-Hat Cupcakes.  I have seen a lot of incredible, amazing cupcakes on TV shows, in magazines, and on Pinterest.
But I had never before seen a recipe for High Hat cupcakes until just recently on Martha Stewart's website.
And besides being super cute, they're actually easy to make!

From:goldilockskitchen.com
21. Dulce De Chocolate Cupcakes
Dulce De Leche Chocolate Cupcakes!
This SUPER decadent recipe is sure to become a new favorite.

From:bakerbynature.com
22. One Bowl Red Velvet Cupcakes
I am SO in love with these cupcakes! Fluffy, moist, tender, red velvet nirvana.
I just know you're going to adore and savor each and every bite.

From:bakerbynature.com
23. Apple Tree Cupcakes
Aren't these apple tree cupcakes adorable?! They definitely remind me of the apple orchard!

From:thefirstyearblog.com
24.Gingerbread Latte Cupcakes
These gingerbread latte cupcakes are moist, not too sweet, and perfectly spiced.
The cream cheese frosting is thick, fluffy, and flavored with just a kick of fresh lemon.
They're going to be the hit of your holiday party!

From:bakerbynature.com
25. Christmas Cupcake Wreath
You can use a cake mix and store bought frosting.  Then you can bake ahead and then pull out frozen cupcakes and make this project happen.
You can even buy pre-made cupcakes from the grocery store.  See where I'm going with this?
The leaves can be made a few days ahead as well and the best part about this dessert is that it's a pull-apart cake.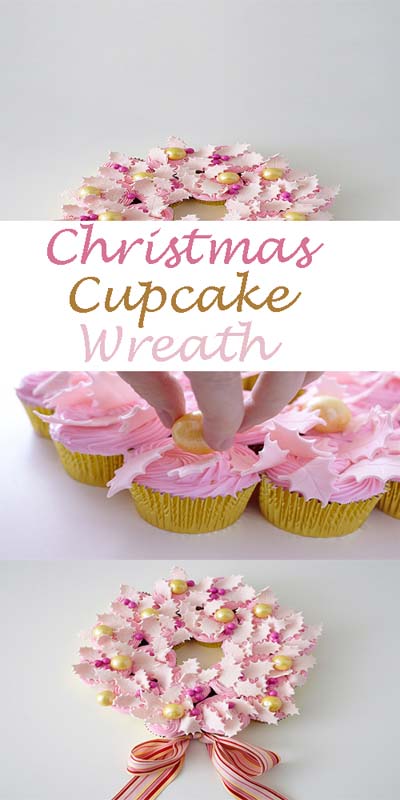 From:thecakeblog.com
Loved these Christmas Cupcakes? Then remember to pin it for later!
If you enjoyed this roundup of 25 Christmas Cupcakes, remember to pin it to your Christmas cupcakes board on Pinterest. That way you can easily find it when you want to.