Calling all Fixer Upper Fans! You do not want to miss out on this roundup of  DIY Farmhouse Decor Ideas that I've put together.  Although it was not that long ago that I was introduced to Joanna Gaines and the farmhouse hype, I'm hooked!
Unfortunately, some of us need to stay within our budget and it can be a bit overwhelming.  But you don't need to overhaul your whole house to get this look. With a few farmhouse decor items on hand, you can for sure transform your house to get a cozy farmhouse feel.
---
Easy DIY Farmhouse Decor Ideas Anyone Would Love:
There are so many DIY decor ideas available on Pinterest to suit everyone's taste.   But I've chosen a few of my favorites to show you!
You can really get the farmhouse look with a few DIY decor items even if you are not that handy.
Follow this guide to get that charming Farmhouse ambiance without spending too much money and stay within your budget.
With a little bit of creativity and a lot of enthusiasm, you will be able to accomplish these projects in no time.
---
1. DIY Wooden Coat Rack:
I mean come on, a few wooden planks, hooks and screws and you have yourself a whole new wooden coat rack.
Follow the link beneath the picture for complete instructions.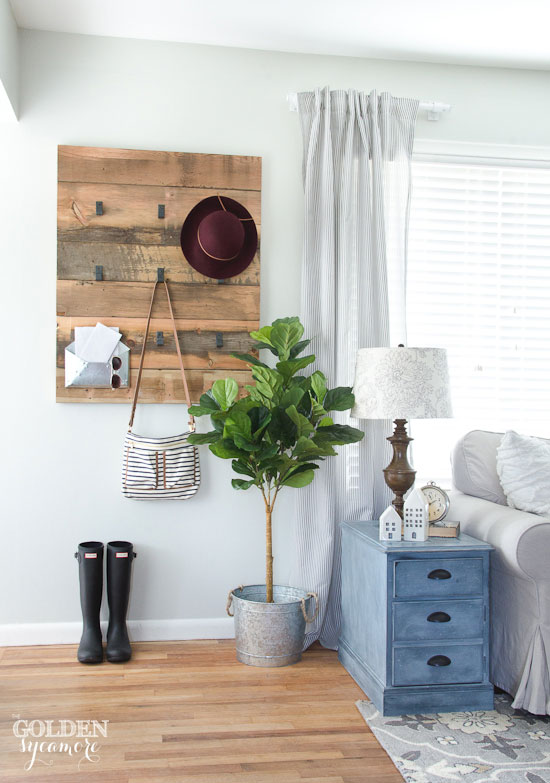 2. DIY Wood Box Centerpiece:
This is the perfect centerpiece for a Dining room table. First off, paint your box with chalk paint and distress where you need it. Punt on handles, and it's ready.
For a step by step tutorial, click the link below the picture.
3. Spring Jar Labels Printable:
Genious idea. You've got empty bottles that are just lying around? Now you know what to do with them!
Lauren from Bless'er House provides us with free printable labels. What a nice statement this makes!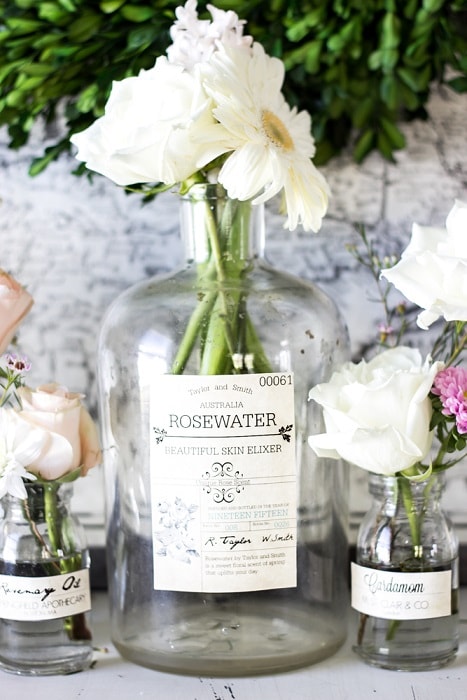 4. DIY Wood Framed Mirror:
This is such a rustic looking mirror and a really easy DIY farmhouse decor project to tackle.
Please follow the link beneath the photo for full instructions.
5.  Hanging Wire Baskets On Reclaimed Wood:
Bring a piece of greenery into your home with this clever DIY. A few pieces of old wood secured together with some wood glue and screws, and you've got yourself a fine looking piece of wall art.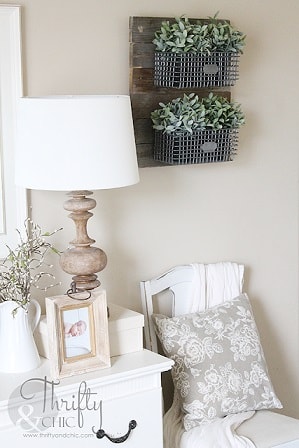 6.  Galvanized Planters:
I just love this creative idea of how you can turn an inexpensive galvanized planter or bucket into a rustic aged decor item.
You just need a few household items for the aging process. Follow the link beneath the picture for complete list and instructions.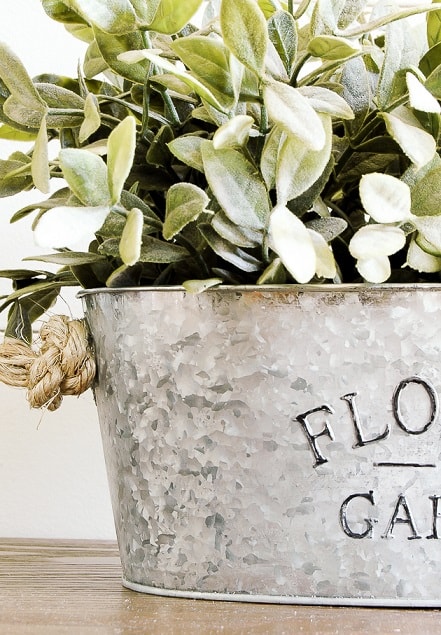 7.  Mason Jars For Flowers:
This is such an easy project. With a lick of chalk paint and some distressing, you have beautiful Farmhouse decor.
You can really use them to arrange flowers in, or store things. The possibilities are endless. Click the link beneath the picture for the tutorial.
8.  Rope Table Mats:
I just love this DIY farmhouse decor idea. If you want to add some elegance and a natural style to your table, then this is definitely for you. All you need is:
Sisal rope
Hot glue gun
Round MDF table mat
Paper
Pencil
Scissors
Please follow the link beneath the picture for more details.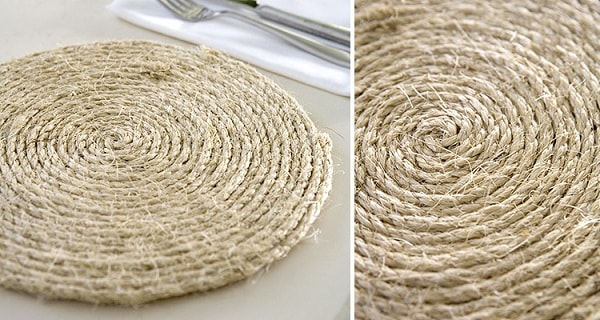 9.  DIY Farmhouse Clock:
I must admit, I'm a bit obsessed with big clocks.  At one stage I counted about 12 or so in our house and decided enough is enough.
But I really love this one that Alicia did. This is an absolute must in your Farmhouse decor.
10. Rustic Table Runner Tray for a Centerpiece:
This long table runner tray for a centerpiece can be filled with succulents in a pot, flowers or anything that tickles your fancy!
It looks rustic and is definitely a piece that you would want in your house.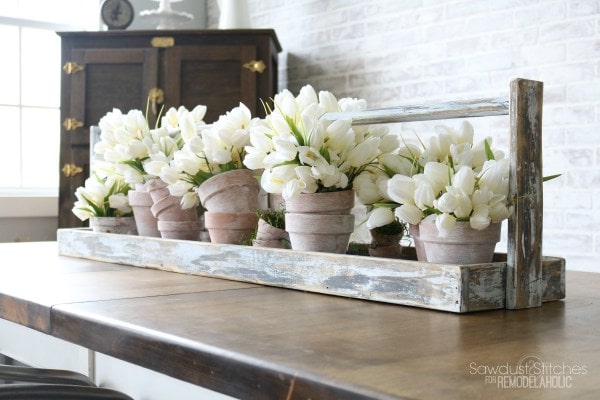 11.  Driftwood Necklace Holder:
So feminine and rustic at the same time. My necklaces are always tangled and I think this is a clever solution!
12.  Enamel Mug Organizer:
I just adore this unique combination of wood and enamel. Really such a clever idea to use coffee mugs!
13.  Barn Style Door:
This barn style door would add that special touch to your Farmstyle decor theme. I love it and it is not something that you see every day.
14.  Rustic Photo Ladder:
This beautiful ladder is made from actual tree branches and you can have it for free, compliments from nature! Such a great way to display your pictures.
15.  Salvaged Wooden Chalk Board:
These wooden chalkboards are great for family messages, grocery lists or quotes!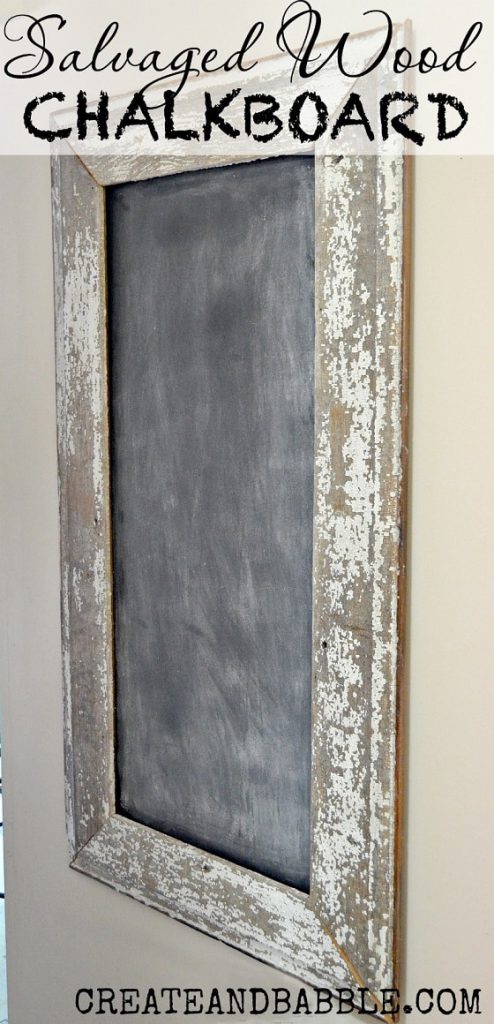 ---
Related Posts:
---
I really trust this guide of DIY Farmhouse Decor ideas inspired you to make your own  Farmhouse decor! Let me know if you have any suggestions or tips in the comments below.
Loved these farmhouse decor ideas? Pin it for later!
If you enjoyed this roundup of DIY Farmhouse decor ideas, please pin it to your Farmhouse Decor board on Pinterest!