Trying to organize your bathroom can sometimes be a bit of a nightmare. Dirty laundry, untidy, not enough space for your make-up and brushes,  towels everywhere! Sounds familiar?
Not every bathroom is equipped with enough build in storage but you can most definitely make a plan and utilize all the available space.
Don't stress, I have rounded up 10 effective ways to organize your bathroom like a Pro.
You really have to be creative and envision the style and overall look of the bathroom.  Ideas are just a click away and you do not have to be afraid of trying something new.
Not everything has to be picture perfect and expensive like in the magazine's, but it has to work for you and your family. Clutter can drive one mad and it is a real downer for the moral.
There are really a number of ways to add storage to organize your bathroom but it doesn't have to break the bank.  Try these budget-friendly ideas for a quick fix!
This post contains affiliate links to Amazon, which means I may earn a small commission if you purchase something through one of my links, at no extra cost to you. Please see my full affiliate disclaimer here
A place for everything and everything in it's place
10 Effective ways to organize your Bathroom like a Pro:
1. Shoe Organizer:
It is better to screw the shoe organizer into the cabinet door, to make it more secure.
You can store anything from your hairspray to lotions in there.
All within reach and out of the way.  Very simple but effective!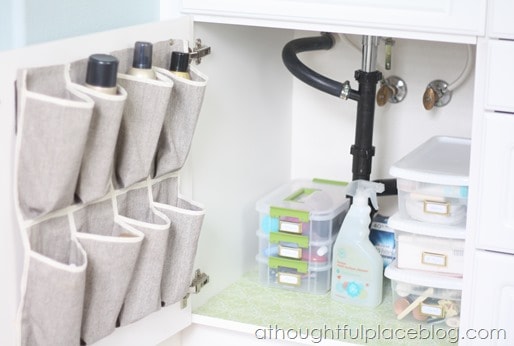 Found from: athoughtfulplaceblog
Check out this shoe organizer from Amazon, if you want to try it out for yourself.
2.  Large framed mirror:
Use a large framed mirror and build a  cabinet frame attached to the wall. The mirror on hinges acts like a door.
The advantage of this DIY is that you get to use a full-length mirror and have tons of storage behind it! Really a creative way to organize your bathroom.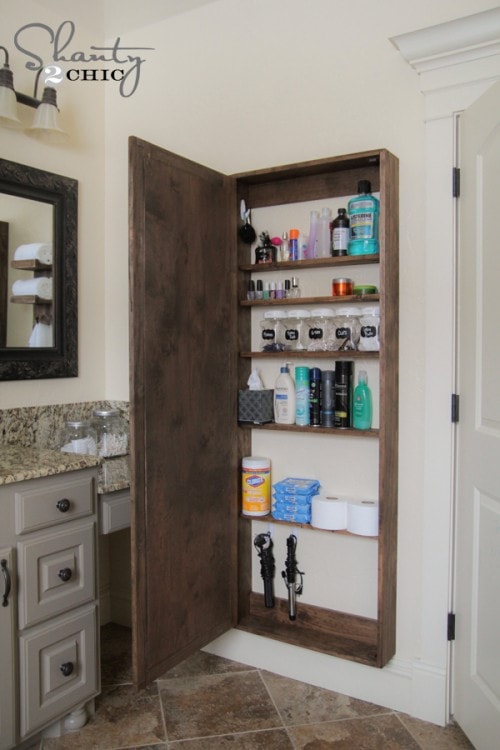 Found From:    sunnyhomecreations
3.  A socket in bathroom cabinet drawer:
A socket in the bathroom cabinet drawer. This is a genius idea to organize your bathroom.
A place to use and store multiple styling tools, curling iron, hair dryer and even charging your smartphone!  Check out this ultimate vanity!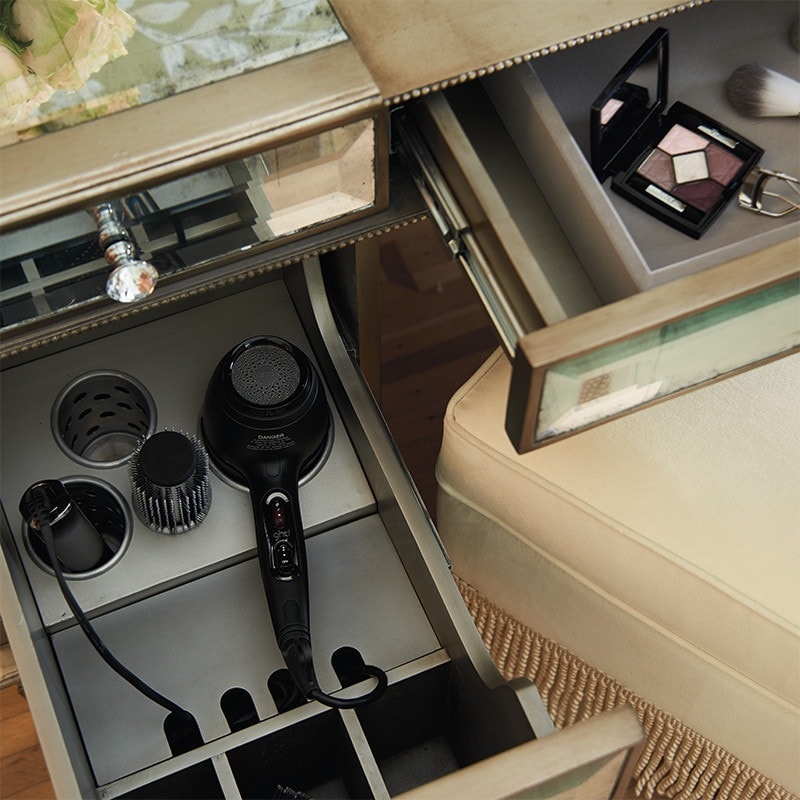 Found from:   frontgate
4.  Mason jar bathroom storage:
Mason Jar Bathroom storage and accessories are so easy to DIY.  Such an inexpensive way to organize your bathroom.
It is literally, painted mason jars.  I personally love Annie Sloan Chalk Paint and seal it afterward with a sealer.   You can use any color that suits your color scheme.
Just make sure your paint is dry between coats, remember to distress a little for a more authentic look.  and whala, you've got yourself some storage for toothbrushes, cotton wool, earbuds, etc.
Found from:  masonjarcraftslove
If you want to attempt a little DIY project and paint mason jars like this, check out these ones at Amazon
5.  Double rail behind bathroom door:
Double rail behind the door:  this is a very clever idea if you are short on space. Position 2 rails on the back of the bathroom door and your towels are out of sight.  a Very quick and easy DIY project.
Found from:  jennaburger
Look at this lovely towel rod with double rails, from Amazon, you should try it.
---
---
Check out these wonderful DIY projects for some inspiration:
---
6.  Baskets Inside cabinet doors:
Utilise the space on the inside of the cabinet doors.  If you do not want toothbrushes in sight, this might be the solution.
Personally, I hate to see a toothbrush on the counter, stuffed in a jar, or against the wall,  not hygienic at all.
 Found from:  polishedhabitat
7.  Wine rack as storage:
Repurposing a wine rack to use as storage for towels, not only does this one looks neat but it contributes to a more French theme in the bathroom.  Such a clever an innovative idea to organize your bathroom.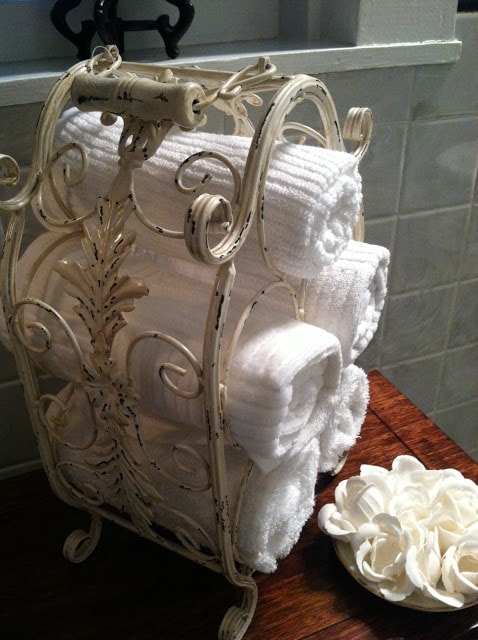 Found from: throughmyporchwindow
Check out this nice wine rack from Amazon – it will hold 5 towels. You can even paint it a different color if you want.
8.  Magnetic organizer: 
If you wanted, clever, this is CLEVER! Simply buy a cookie sheet from the Dollar store and attach some magnetic strip to your makeup. Attach to the sheet.  All your makeup is out of the way and in reach for when you need them.
Countertops are clutter free and neat.
Found from: thecrazycraftlady
This is such an easy DIY project.  Look what I found on Amazon, that will enable you to do it!
9.  Baskets:
Attache baskets to the wall for storage: towels, toilet rolls or other items that clutter your space.
You can decide on the size of baskets and even paint them to suit your color scheme!
Found from: simplydiy2
You can always do something similar yourself. Check out this basket at Amazon.  You will save tons of space, and it will look neat as well.
10.  DIY Magazine rack:
Really genius.  To keep magazines neat and out of the way, you probably need one of these.
Flat against the wall and very easy to DIY. Sure you can do it in an afternoon! Simple and quick.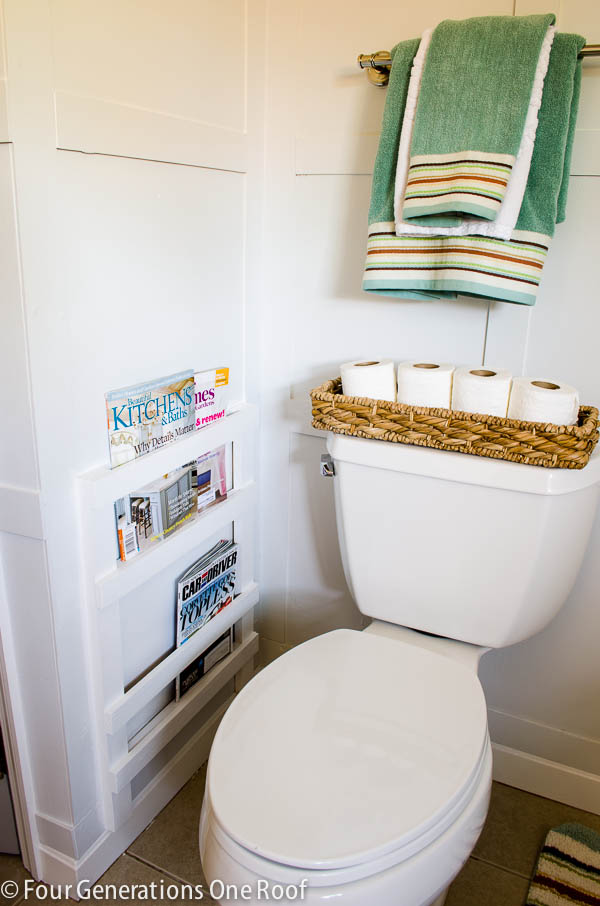 Found from: fourgenerationsoneroof
Hope you enjoyed this guide to 10 effective ways to organize your bathroom.   Save this pin on your Organization  boards, on Pinterest.  You can also follow me on Pinterest, for more organizational ideas and recipes!