Looking at these furniture makeover ideas is really satisfying. It is so wonderful to see an old piece of furniture being transformed into something new. If you are looking for some inspiration to transform a piece of furniture, look no further!
Whether you are refurbishing your home with junkyard finds and transform them into stunning pieces, doesn't really matter.  What really matters is the satisfaction of seeing your handiwork come together and your house being transformed into the home you've always wanted.
There are so many colors and techniques you can use to transform a piece and make it unique.  The potential is limitless, and listed below are some of the best furniture makeover ideas and projects you just have to see!
Click thru to the Bloggers sites to see the before and after pictures of these wonderful DIY furniture makeover ideas.
This post may contain affiliate links, which means I may earn a small commission if you purchase something through one of my links, at no extra cost to you. Please see my full affiliate disclaimer here
Furniture makeover ideas and inspiration to save the day:
Regeneration of furniture can really be as easy as painting it a different color or just changing out the hardware. Nowadays there are so many products on the market that you can use to make a statement.
Just look at these stunning stencils from Amazon that you can use to transform your piece from drab to fab!
1. Thrifty End Table Makeover (Annie Sloan Chalk Paint)
This Blogger used Annie Sloan Chalk Paint to give this end table a new lease on life. Such a nice way to spruce up the inside of a drawer!
2. Repurposed Headboard Bench
Amazing what this Blogger did. Repurposed a headboard into and bench.  I just love the paint job.
3. Hanging Shelf Makeover
A Thrift store-bought item that ends up in such a beautiful piece. Use this chick shelf anywhere in your home.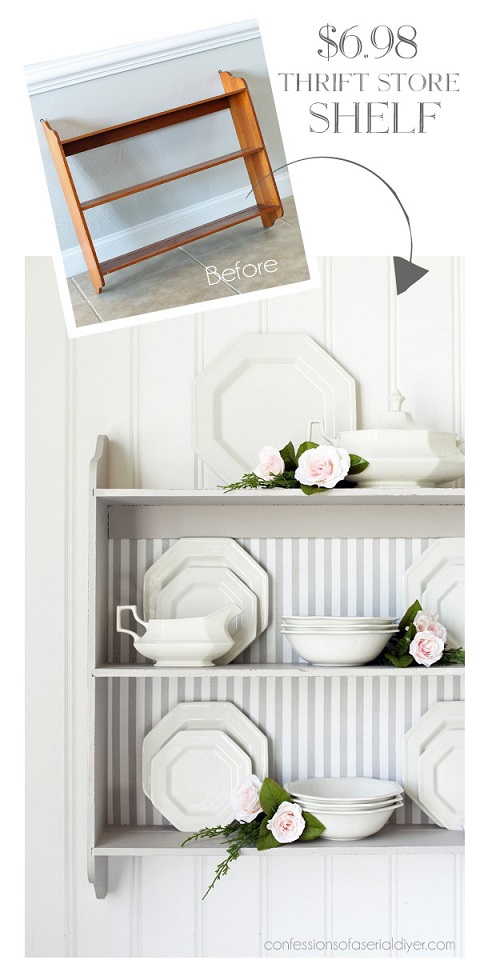 4. Distressed Desk
From non-existent to a really stunning desk. Use black for your first layer of paint, then apply vaseline on the places where you want it to look distressed. Now, slap on your green color and wipe over the vaseline areas with a clean cloth.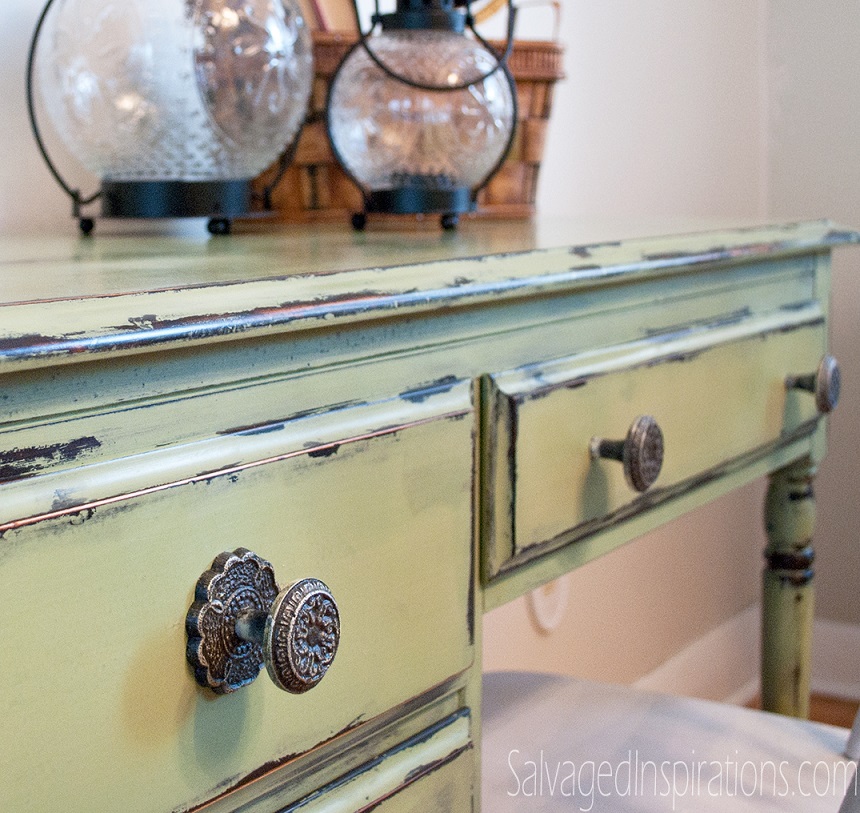 5. Thrifted Dresser To TV Stand/Buffet/Entryway Table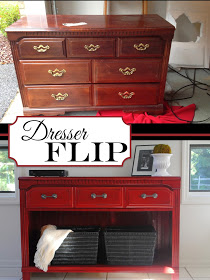 6. Dining Room Hutch Makeover Reveal
This Blogger used the spray paint method and no distressing.  What a transformation, it looks clean and neat, I love it.
7. White Washed Sofa Table
This makeover is a steal.  The whitewashed top came out perfect and the table fits so well in the room.  Legs were painted white and the top whitewashed.
8. Oval French Provincial Side Tables Makeover
A mix of Annie Sloan Chalk Paint with DIY chalk paint turned these side tables into a stunner!  I would love to have them for myself I as also love French Style furniture!
9. Tall Dresser Makeover
This dresser looks chick and stylish after the makeover.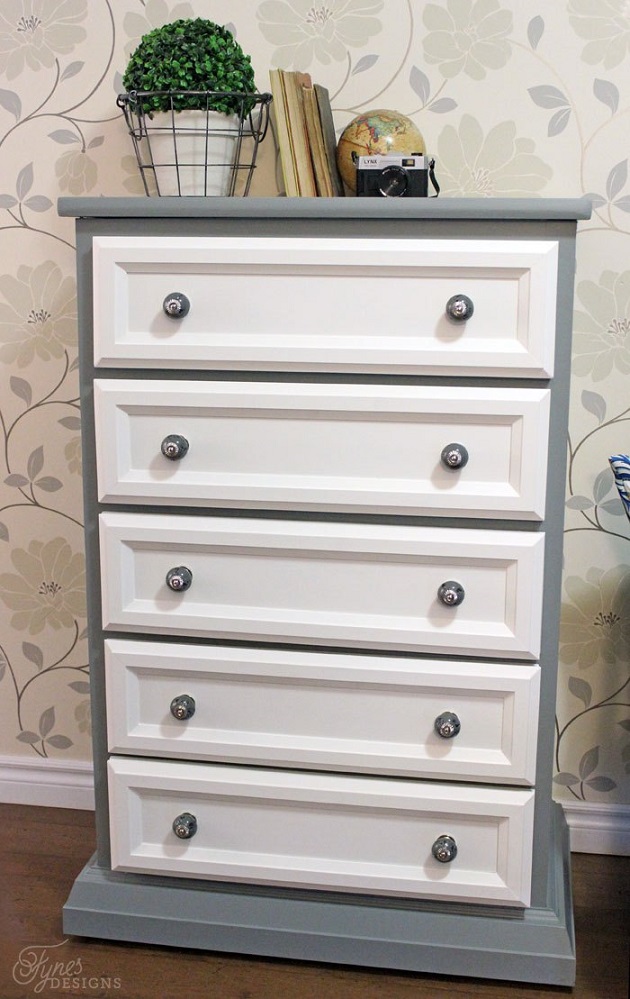 10. A DIY Refinished Side Table
A nice one with lots of storage.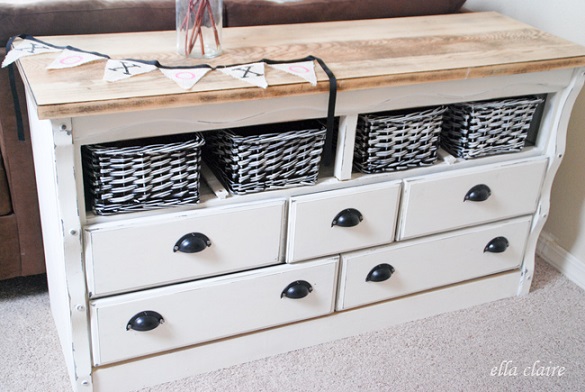 11. Bathroom Storage
This is an epic transformation, remember to seal your piece afterward if you're going to use chalk paint.
The method used by this Blogger in her words:
Hand sanded the entire piece with 220

Filled the imperfections with Bondo Glazing Putty

Sanded again

Two sprayed coats of Shellac base primer

Three sprayed coats of Fine Paints of Europe Hollandlac Brilliant mixed in White Dove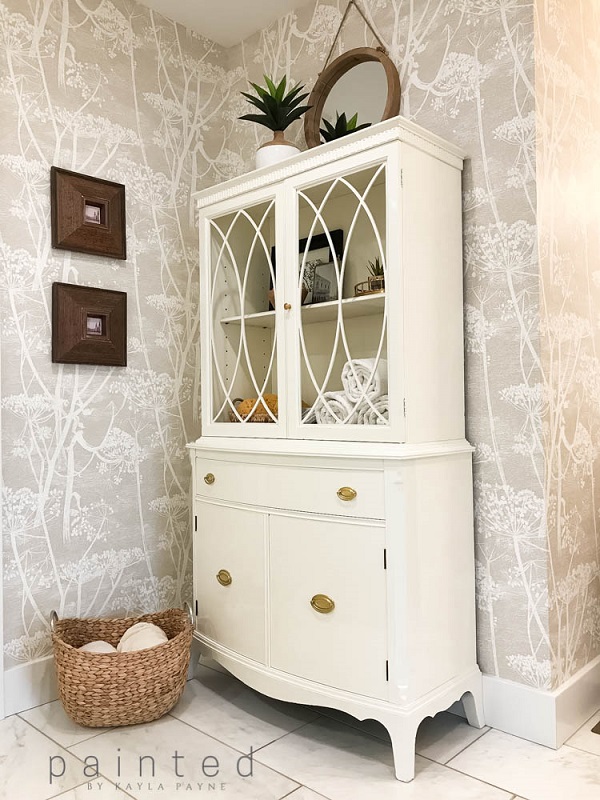 12. Rustic Numbered Dresser Nightstand
Liz Marie of Liz Marie Blog used a dry brushed technique and white wax to create this stunning dresser nightstand.
13. Ombre Paint Effect On Dresser
Please visit this site to see how this Blogger used an ombre paint technique to transform this dresser.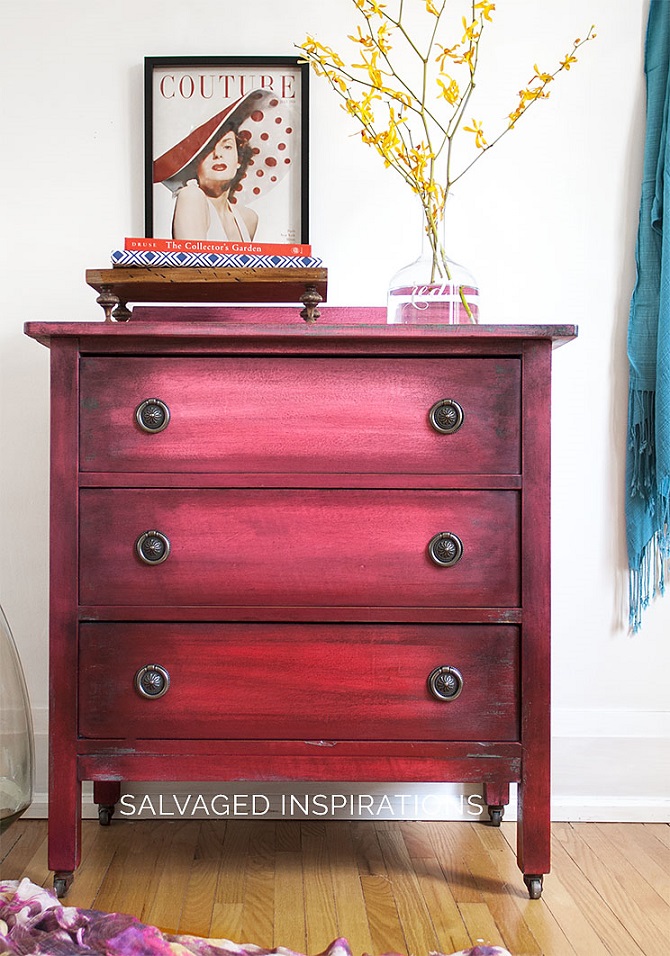 14. White Washed Dresser
Look at the tutorial on this Bloggers site, to see how this was done.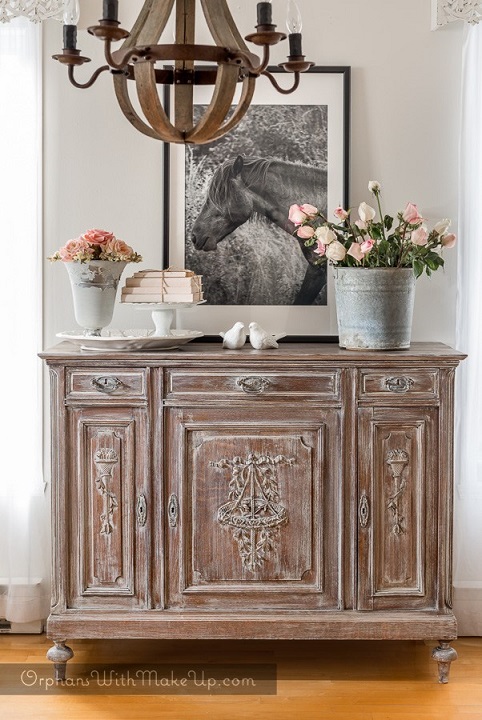 15. Modern Painted Nightstands
Looks so stylish and very modern. Love the hardware.
16.  Thrift store Hutch Makeover
I absolutely love this color used on this hutch! What a transformation, it looks neat and clean.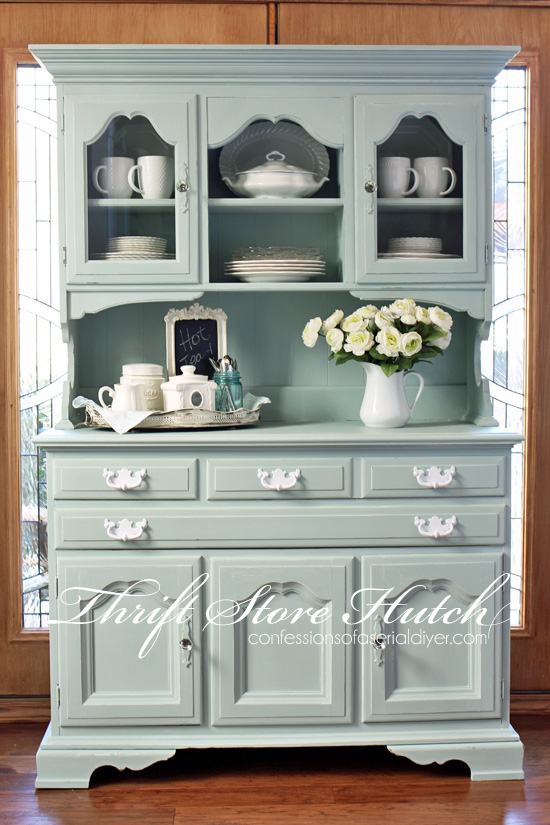 confessionsofaserialdiyer
17.  Outdated Hutch to Coffee Bar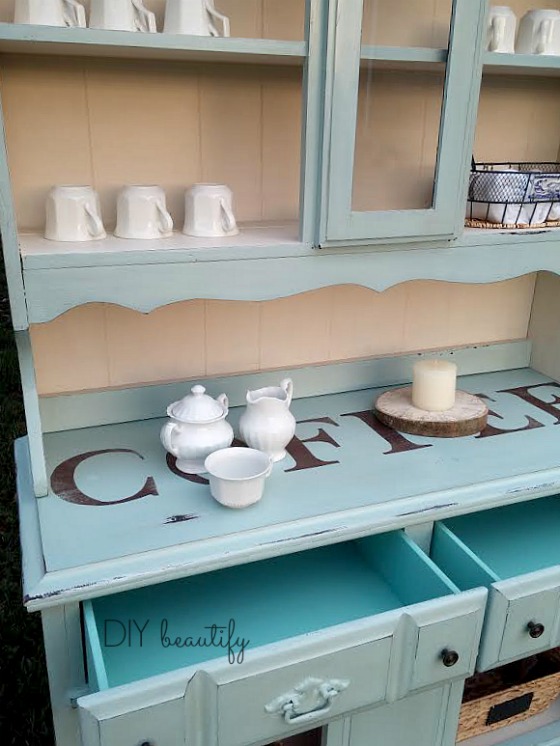 18. Spray Painted Silver over Lace
This Blogger took an ordinary piece and transformed it into a really stunning unique looking piece.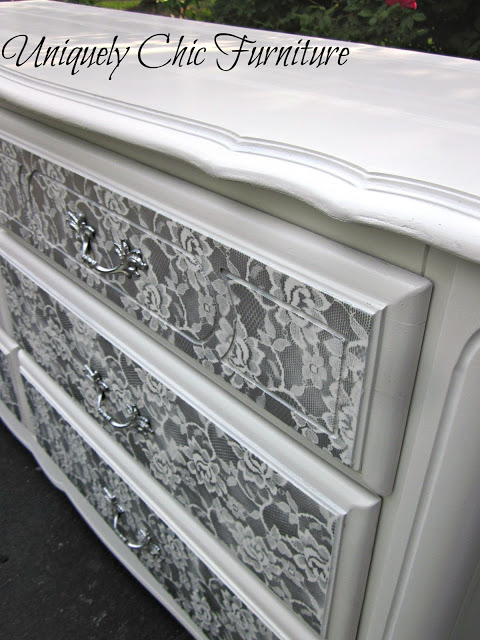 19.  Sweet little cabinet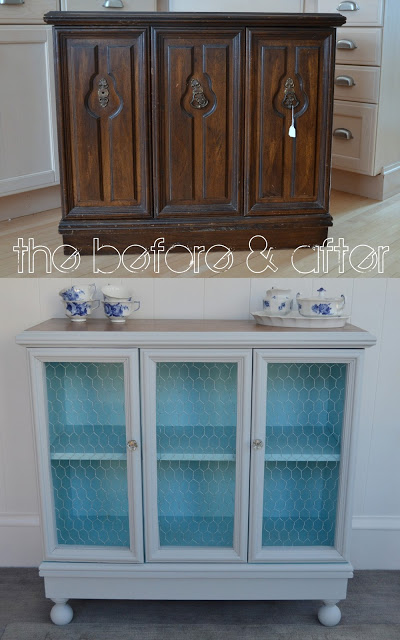 20.  Restoring a Queen Anne Settee
This looks so stylish.  See instruction on this Bloggers site for the know how.
Related DIY projects, you can do yourself:
21.  Side chair makeover
22.  Mini Drop Cloth Rosette Stool Makeover
23.  Cross Stitch Chair
Such a genius idea. Looks so summery and inviting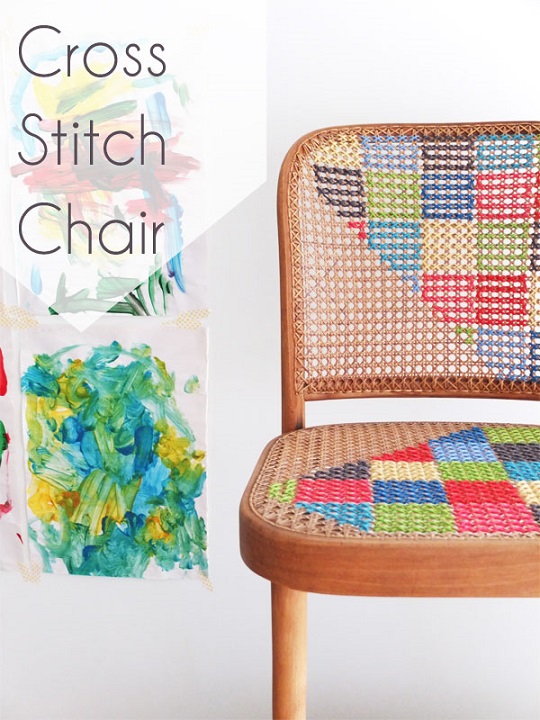 24. Kitchen Table and Chairs Makeover
Plain and simple makeover with great impact!
25. China Cabinet makeover
Beautifully done. Love the color and detail of this cabinet.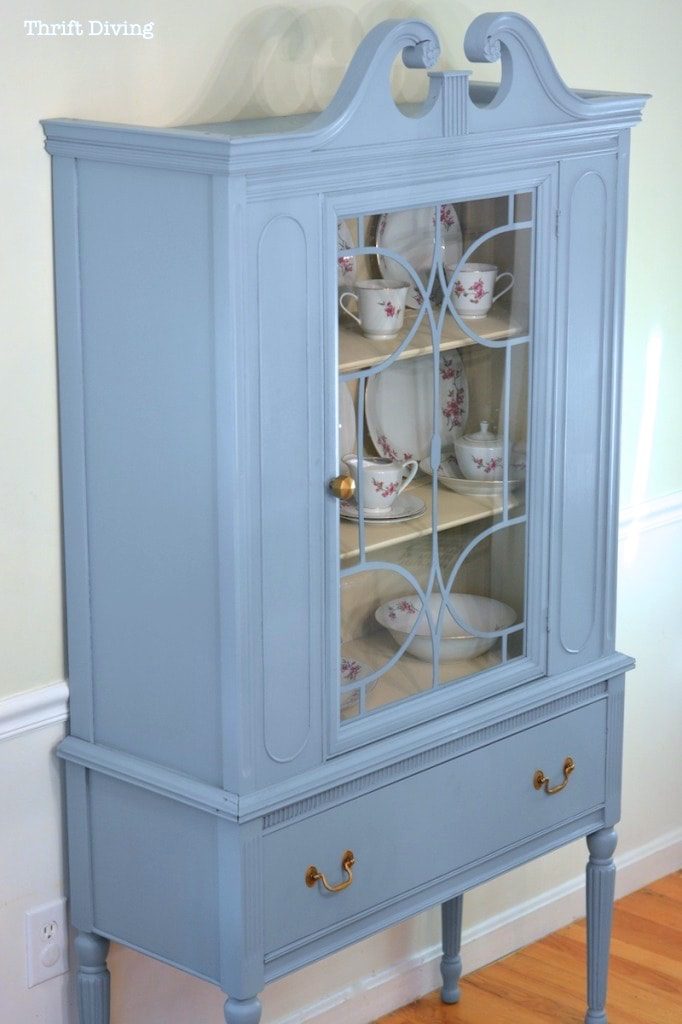 I have high hopes that you found this guide to furniture makeover ideas very inspirational! Sharing is Caring. Please save this Pin for later!   You can also follow me on Pinterest, for more sewing hacks, organizational ideas, and recipes!
Just look at these wonderful DIY projects, you can do yourself:
Sewing Hacks every creative person should know
Create Your Own Bohemian Inspired Bedroom
23 Bullet Journal Ideas To Keep Your Life Organized
Desk Organization Tips To Make You More Productive