Enjoy a fantastic holiday season this year with family and friends while serving them some of these delicious Gingerbread Recipes.
With the holidays just around the corner, it is time to think about desserts! I  have selected 25  of the best, homemade, old-fashioned Gingerbread Recipes on Pinterest!
Gingerbread Recipes
I really hope you will enjoy this wonderful selection of Gingerbread Recipes!
To view the full instructions for any of these Gingerbread Recipes, please click the link below each image.
1. Gingerbread Brownies

Gingerbread Brownie recipe is brownies meet gingerbread in this super chewy bar that's perfect for cookie exchanges and Christmas dessert!
From: ihearteating.com
2. The Best Gingerbread Cookie Recipe
A delicious and easy gingerbread cookie recipe made with black-strap molasses! It's a family favorite!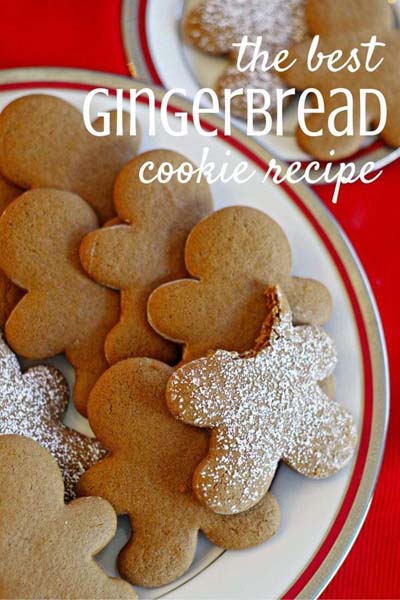 From: cleverlysimple.com
3. Gingerbread Souffle with Butterscotch Drizzle
Let's talk Gingerbread Souffle and how incredibly delightful it is with a pouring of warm Butterscotch Sauce.
A soft fluffy cake made with molasses and pumpkin spice served with a dusting of powdered sugar and a drizzle of creamy butterscotch.
If you haven't tried your hand at baking a souffle, I suggest you grab a few ramekins or mugs and try this recipe.
Your gingerbread loving taste buds will thank you!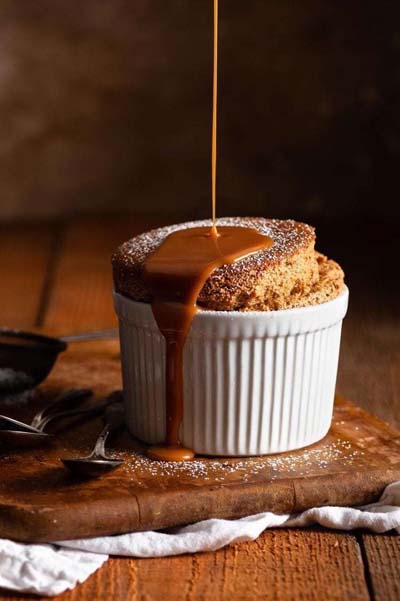 From: twocupsflour.com


4. Gingerbread Cake With Caramel Sauce
I am still reminded that it is the holidays with the Christmas lights and holiday baking.
And gingerbread.  Love gingerbread!
But this cake was THE BEST GINGERBREAD CAKE I have had in my life!  In fact, it was probably one of the best cakes I have ever had!
From:  therecipecritic.com
5. Chocolate Gingerbread Cookies
Chocolate Gingerbread Cookies don't need much of introduction, because the name speaks for itself.
Big soft gingerbread cookies with a light chocolate flavor and a dusting of powdered sugar will be devoured in no time.
Eat them plain, dip in milk, or sandwich together with ice cream or caramel. Either way, you dress them up, these cookies are a definite baking favorite.
From: twocupsflour.com
6. Award-Winning Gingerbread Cookies
These are the best Christmas Cookie recipes ever!
We have gathered a collection of these best Christmas Cookie Ideas, so you will be the envy of your Christmas Cookie Exchange!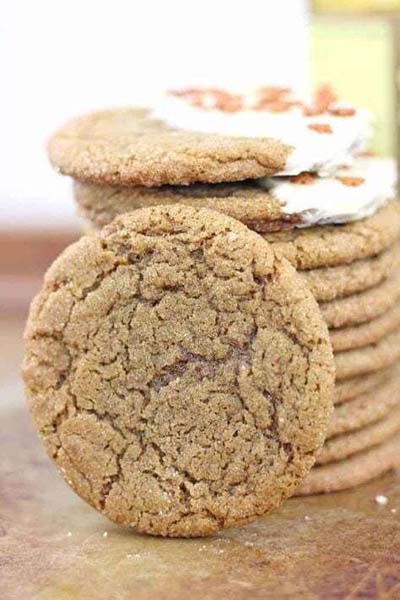 From: dinnerthendessert.com
7. One & Only Gingerbread Recipes
This gingerbread recipe is perfect to make with kids and to eat with the rest of the family at Christmas or any time you fancy.
From: goodhousekeeping.com
8.  Old-Fashioned Gingerbread
Grab all the ingredients and get started!
From: ourheritageofhealth.com
9. Mini Gingerbread Houses
Have the cutest mug decorations ever!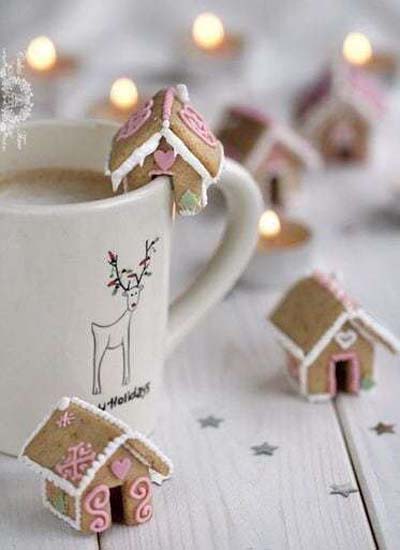 From: gardenandtable.net
10. Gingerbread Bars with Cream Cheese Frosting
Chewy, perfectly spiced Gingerbread Bars meet sweet, luscious Cream Cheese Frosting and it is a match meant to be!
These are one of the best holiday bars and once you try them you'll want to make them every Christmas season!
My list of cookies I need to make every year just keeps getting longer and longer :).

From: cookingclassy.com
11. Deliciously Easy Gingerbread Fudge
Made using condensed milk and white chocolate, this Easy Gingerbread Fudge is filled with aromatic spices including ginger, cinnamon, nutmeg, and cloves, along with a good dollop of molasses.
Just like your favorite gingerbread cookie!
From: sweetestmenu.com
12. Gingerbread Biscotti
Last night I was rummaging through my recipe books and bookmarked websites to decide what to bake for day 6 of the 25 Days of Baking.
I settled on gingerbread biscotti, festive and something I've never made before.

From: ifyougiveablondeakitchen.com
13. Spiced Gingerbread Loaf
While we're all in full Thanksgiving mode right now, I want to share something you can make over the weekend and the weeks leading up to Christmas.
This spiced gingerbread loaf will make your home smell completely divine as guests come and go, not to mention put you in a completely festive holiday state of mind.
From: sallysbakingaddiction.com


14. Chocolate Gingerbread Truffles
There are certain foods that, although perfectly delicious in their own right, become a whole other force to be reckoned with when combined.
Peanut butter and jelly. Ketchup and fries. Cookies and cream cheese.
Wait… what?
Here's the part where I kindly ask you to lower your slightly raised eyebrow and stop looking at me like I'm crazy. I realize that cream cheese isn't exactly the first thing that pops into most people's minds when they think cookies (I'm pretty sure milk holds that right), but I can guarantee that a few cozy moments spent with these truffles will have even the biggest skeptic changing their tune.
From: ideahacks.com
15. Delicious Gingerbread Loaf
A gingerbread loaf was the first thing that I baked as a gift.
It was a small and spicy gingerbread loaf that was a part of a breakfast basket.
Since baking it that time I completely fell in love with it, with how easy it is, with how delicious it is and best of all with how to goo your home smells while you are baking it.
From: carmelapop.com
16. Gingerbread Scones with Cream Cheese Frosting
These Gingerbread Scones with Cream Cheese Frosting are like a gingerbread cookie only in breakfast form!!
Filled with cinnamon, ginger, clove, and molasses make these a wonderful breakfast treat!

From: countrysidecravings.com
17. Copycat Starbucks Gingerbread Loaf
This one took a little longer to get on the blog than I initially had planned on.
The truth is, I wasn't really crazy with my first attempt. It wasn't as moist as I had wanted. And I made WAY too much frosting for one loaf – not that I'm complaining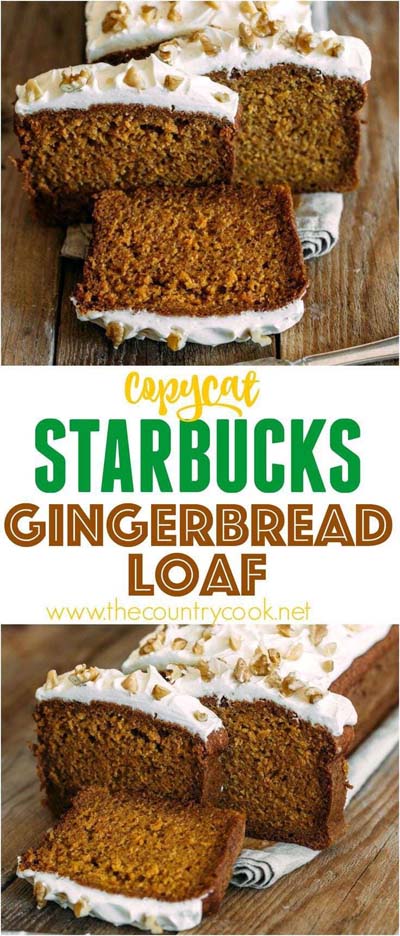 From: thecountrycook.net
18. Soft Glazed Gingerbread Bars
Craving gingerbread but don't have time to make those cute, little gingerbread men?
Try these quick and easy, soft gingerbread bars.

From: chocolatewithgrace.com


19. Classic Gingerbread Recipe
Are you looking for a fun project to do with your kiddos before Christmas?
These classic flat gingerbread houses are the perfect thing to do with your kids over their holiday break!
From: spaceshipsandlaserbeams.com
20. Sweet Christmas Gingerbread Star Cookies
Good news! These gingerbread cookies will taste excellent with Fancy or Cooking molasses (though I still really recommend the former)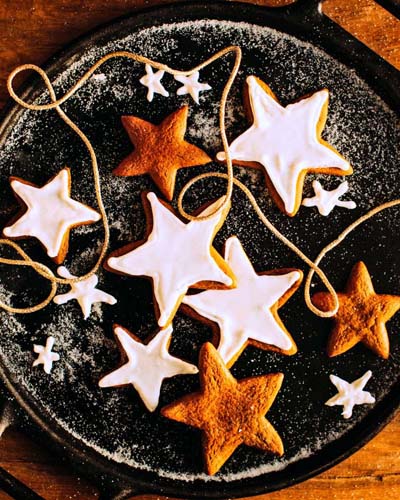 From: foodess.com
21. Soft & Chewy Ginger Cookies
After spending what seemed like hours stringing one strand of lights, I took a break and made these cookies.
There are three kinds of cookies that I must make every Christmas, and this is one of them.
My mom has been making these cookies during the holidays for years, and even though she always sends me some in the mail, I like to have them baking in the oven sometimes as well.
From: foxandbriar.com
22. Gingerbread Spritz Cookies
Gingerbread spritz cookies are buttery and spiced with classic gingerbread flavors in this easily shaped version of gingerbread cookies.
This spritz cookie recipe makes more than enough for a crowd.
From: mysequinedlife.com
23. Mini Gingerbread Cookie Cups
Decorated gingerbread cookie that looks too darn cute! Crisp, soft, sweet, spicy, minty and ADORABLE.
From: kitchenathoskins.com
24. Best, Ever Traditional Soft Gingerbread Cookies
Christmas = Gingerbread.
That's why you need these soft gingerbread molasses cookies on your Christmas baking list!
They're thick with a subtle molasses flavor and will make your house smell just like Christmas morning when you bake them.
From: tastesoflizzyt.com
25. Chai Gingerbread Waffles with Cranberry Cream
I'm obsessed!
When I made these paleo gingerbread waffles using my Homemade Chai Spice Blend, I was surprised how close it came to traditional gingerbread spices!
You still get that familiar taste of ginger, cloves, and cinnamon with a little bit of something extra — that you can't put your finger on, but you love it.
From: perrysplate.com
[related_posts_by_tax]
Loved these Gingerbread Recipes? Then remember to pin it for later!
If you loved this roundup of 25 Gingerbread Recipes, remember to pin it to your Christmas Dessert board on Pinterest. That way you can easily find it when you want to.