Here's a selection of  Butternut squash recipes that you will actually use! We can sing praises all day to this wonderful and versatile squash.  Whether you make fries in the oven, hearty soup with cream,  roast them with olive oil and sage, fill them with veggies and stuff them in the oven or make Gnocchi with them. They are worthy!
It is such an easy vegetable to grow,  stores well, without processing and is so tasty and nutritious.
This post may contain affiliate links to Amazon.  This means that if you use my referral link to buy something at Amazon, I might receive a small commission at no extra cost to you.  For more information you can see my full affiliate disclaimer HERE:
You might also like to see these interesting:  Benefits of Butternut Squash:  shoutincolor
They are nutrient dense and packed with beta-carotene, which is a powerful anti-inflammatory nutrient for your immune system.    Also a very good source of potassium, which is important for normal heart, kidney, muscle and digestive function.
Butternut Squash Recipes:
Roasted Butternut Squash Hash With Apples & Bacon:
This savory, sweet and healthy Roasted Butternut Squash Hash with Apples & Bacon is Paleo & Whole30 friendly and perfect as a meal or side dish!  I love serving this hash with greens and fried eggs any time of day.  Grain free, dairy free, sugar free, soy free.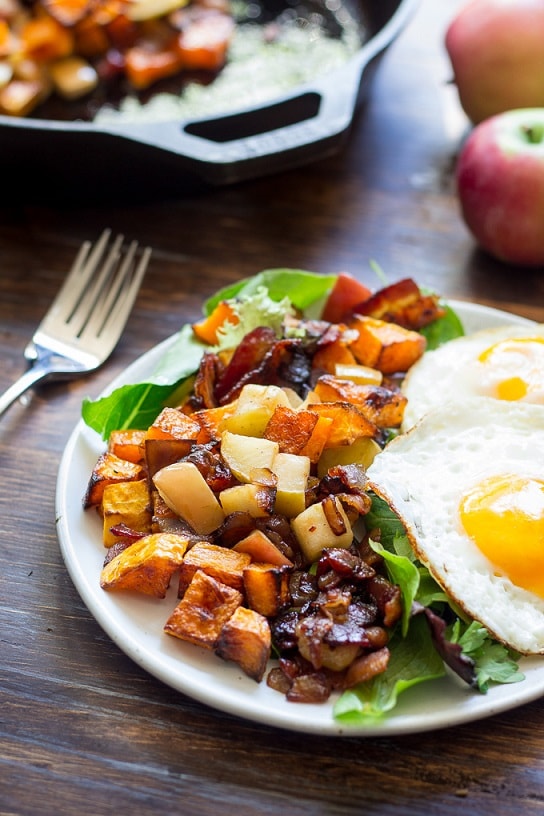 I absolutely love my 
Le Creuset Signature Iron Handle Skillet, 11-3/4-Inch, Cerise (Cherry Red) 

from Amazon to use in dishes like these!
Butternut Squash Fries:
Rich in Vitamin  and fibre, Butternut Squash is an excellent choice of vegetable providing slow release energy for managed blood sugar regulation.
Butternut Squash Tots:
They are full of rich spicy flavour from the addition of paprika, cayenne and cumin with bits of grated carrot and onion to add texture to the butternut squash puree.
These tots are Grain/Gluten free, dairy free, Paleo, Vegan, and sugar-free
Butternut Squash Noodles With Spinach And Mushroom:
Who needs all those pasta carbs when you have this recipe for gluten-free butternut squash noodles with spinach and mushrooms. It's paleo, Whole 30-friendly, and vegan.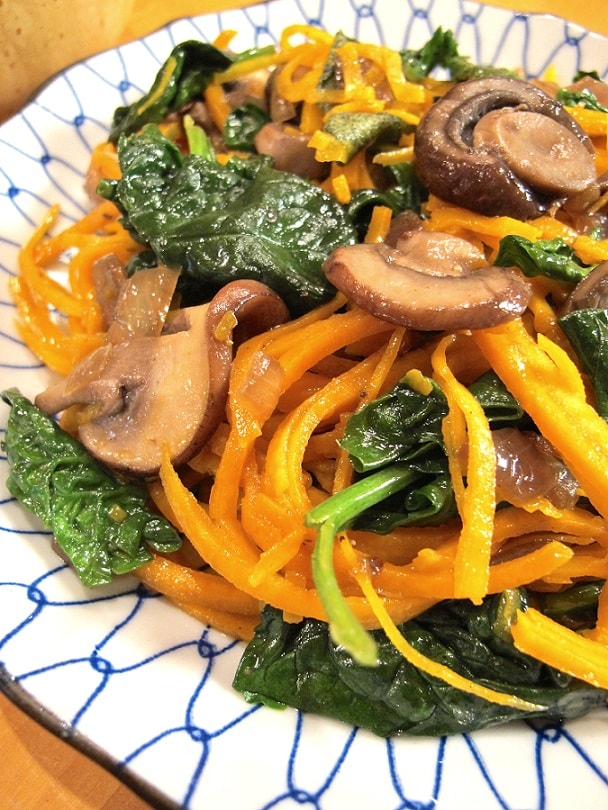 Roasted Brussels sprouts, Cinnamon Butternut Squash, Pecans, And Cranberries:
this easy Thanksgiving side dish is not only delicious and bursting with Fall and Holiday flavors (cinnamon, maple syrup), it's also healthy, gluten free, vegetarian, and packed with fiber!
Butternut Squash Coconut Curry:
I love the flavor of butternut squash, which makes a great addition to soups and stews. As you may have noticed, in a lot of my recipes I tend to include thyme as a part of my seasonings. Thyme for a Jamaican is like basil for an Italian. It's an integral part of our cooking and we use it in most of our savory dishes, if not all. So I had to include thyme in this curry!
Oh yes, I just love to use my Le Creuset of America Enameled Cast Iron Sauce Pan, 2 1/4-Quart from Amazon,  to prepare dishes like these!
Butternut Squash Fritters:
These delicious spiralized butternut squash fritters are the perfect appetizer or side dish. They are gluten-free, grain-free, dairy-free and are free of refined sugar.

 
Caramelized Onion Butternut Squash Crustless Quiche:
 Most of my quiches are pretty simple, but none other is tastier than this caramelized onion butternut squash crustless quiche.
Just try out this Komax Oven Safe Glass Casserole Baking Dish from Amazon to make this dish! You will absolutely be amazed!
Butternut Squash Noodle Hash:
Butternut squash noodle hash is a healthy, filling breakfast! (Paleo, Whole30)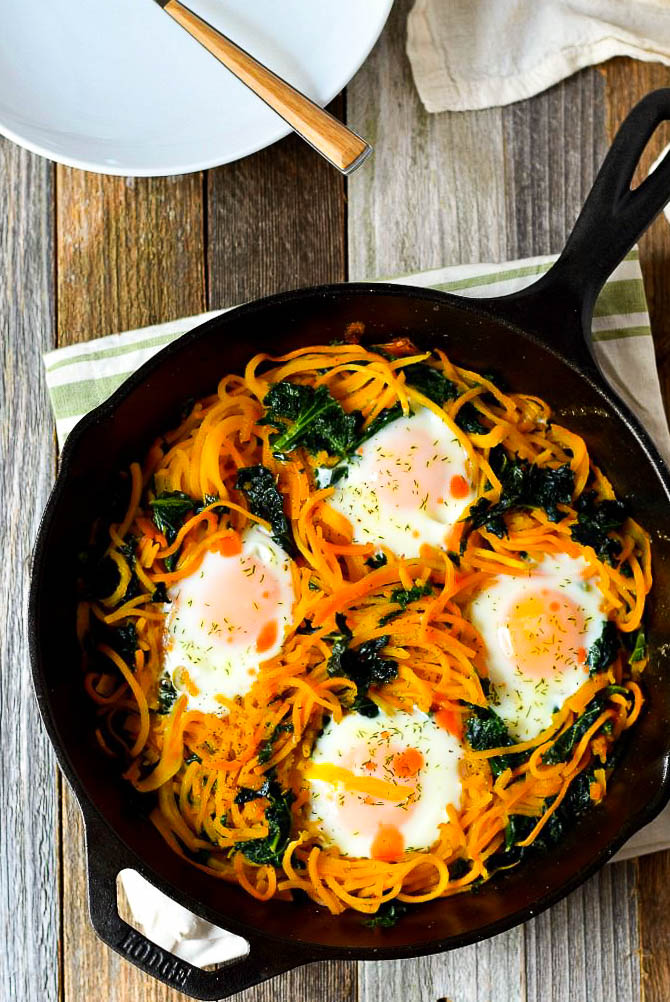 Get your own Spiralizer to make scrumptious butternut squash recipes like these. I got mine from Amazon
Zalik Spiralizer 4 IN 1 Blade Dial – Small Professional Vegetable Slicer With Powerful Suction Base – Heavy Duty Veggie Pasta Spaghetti Maker For Low Carb/Paleo/Gluten-Free Meals
Ground Beef Butternut Squash Kale Soup
This soup is made with real and good ingredients for you such as extra-lean ground beef, butternut squash and kale, which will make you and your family very satisfied without feeling guilt.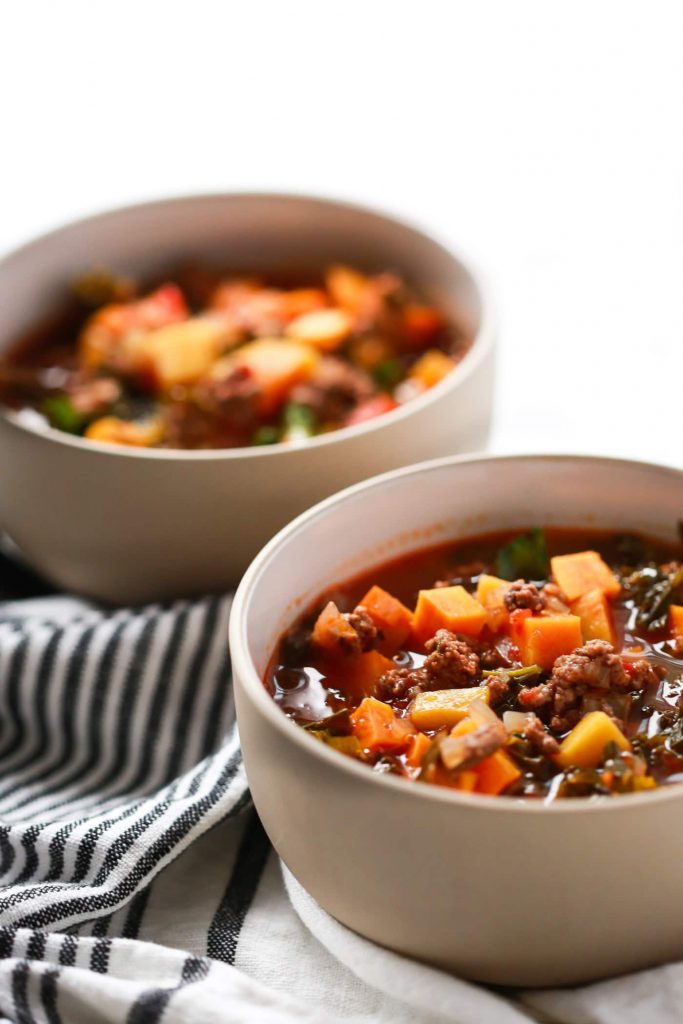 Hope you have enjoyed this list of Butternut Squash recipes. To keep it available to you at all times, save this pin.  You are welcome to follow me on Pinterest for more ideas and recipes!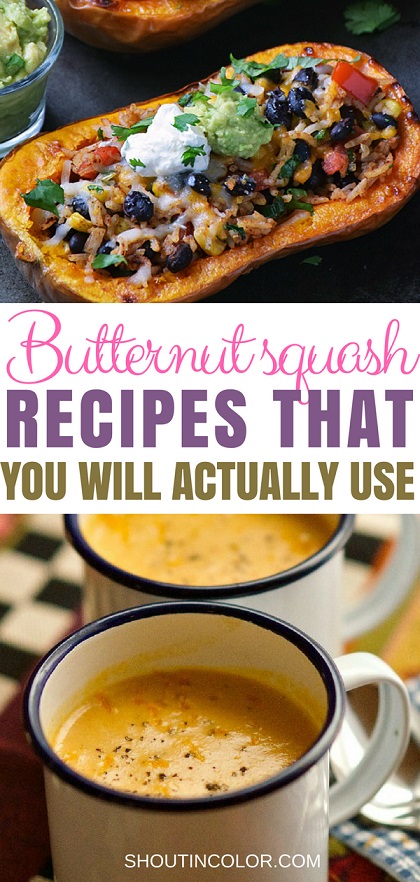 You might also like these Low carb and Keto friendly recipes:
Keto Fat Bombs For Weight Loss
Grain-Free recipes for better health: Breakfast