With Valentines Day just around the corner, it is time to start thinking about Valentines Day gift ideas.
Today's roundup post contains 25 awesome Valentines gift ideas! You can even hand them out to family and friends!
Valentines Day Gift Ideas
I really hope you will enjoy this wonderful selection of Valentines Day gift ideas.
To view the full instructions for any of these ideas, please click the link below each image.
1. Valentine Donut Printables
What's fun about these Valentine cards is that you can pass them out as is, or attach them to a box of donuts, or to a single donut!
Whatever you decide, your friends are going to be in love with all of it! I went a little crazy and created 5 different Valentine cards that you can either pick and choose from or use all of them to pass along.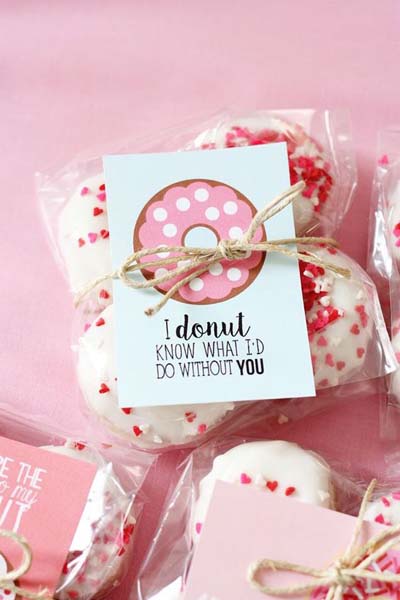 From: eighteen25.com
2. Hugs and Kisses Jar
The power of Hershey's Hugs and Kisses is strong.
To package my Hugs and Kisses I simply wrapped some burlap around my jar and secured with hot glue on the back.
From: thehappierhomemaker.com
3. Valentine's Candy Corn Jar
Well, today, I have another adorable and unbelievable easy gift for your Valentine!
That may or may not include red, white and pink Valentine candy corn!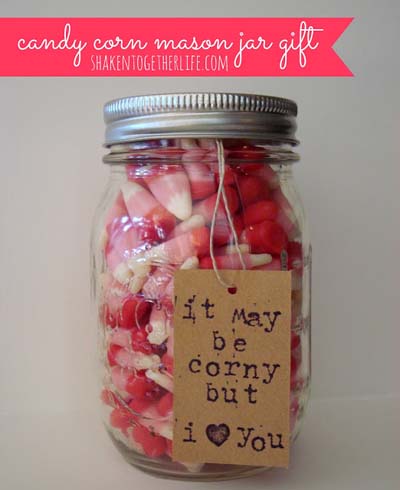 From: shakentogetherlife.com
4. Spa in a Jar
This week I am showing how to make a Spa In A Jar so you can have a relaxing spa date at home!
I have some home spa treatment recipes from previous posts so I included them in this mason jar.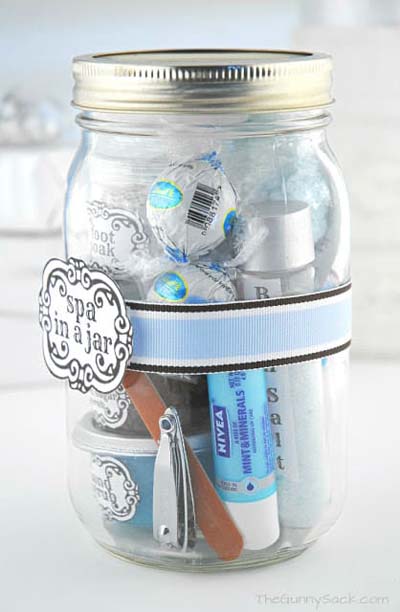 From: thegunnysack.com
5. Mason Jar Cocktail Gifts
They would also make great inexpensive gifts for any occasion, like  Valentine's Day!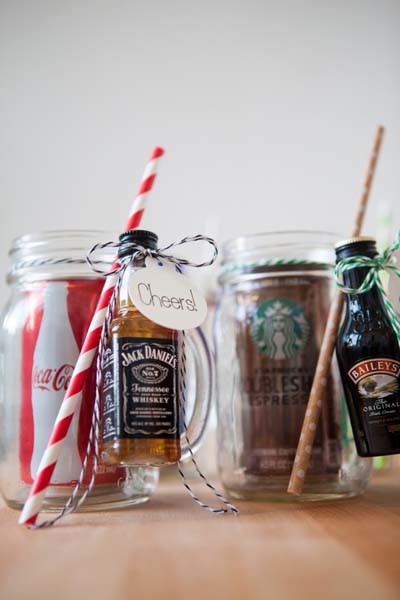 From: somethingturquoise.com
6. Valentine's S'mores Jar
This gift idea is actually designed for teachers (and comes with a free printable label you can use for a teacher gift!) but it really makes a great present for anyone this Valentine's Day.
From: anightowlblog.com
7. Valentine M&Ms In A Jar
I love easy and quick handmade gift ideas and it is not different when it comes down to Valentine's Day Gifts.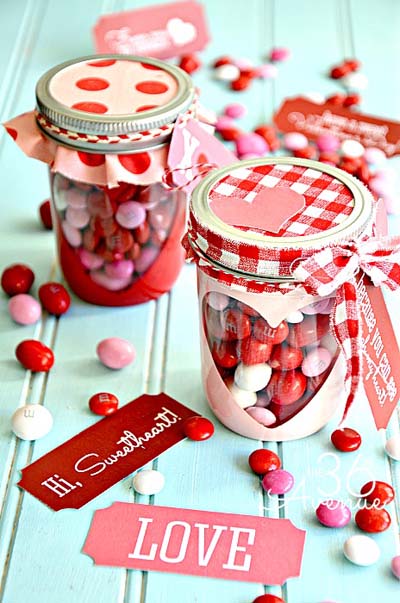 From: the36thavenue.com
8. Mani-Pedi In A Jar
This is a really cute Valentines idea for a teacher or just a friend.
Gift Mason jars are great for any occasion, in fact, there are even Mason jar birthday gifts that are super adorable!
DIY Mason jar gifts are also perfect for anyone (and I do mean anyone) on your shopping list from your mother-in-law to that coworker you don't even know but were lucky enough to get in the office secret Santa. Trust me.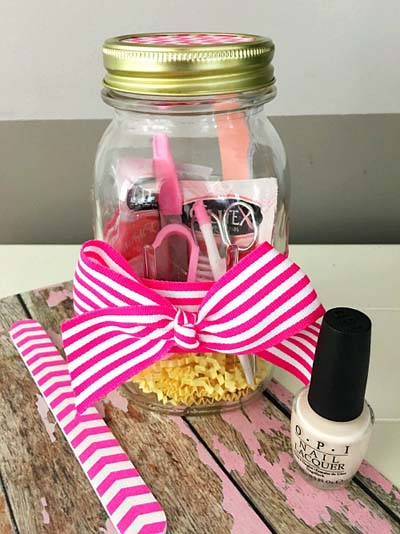 From: masonjarbreakfast.com
9. Mini Candy Jar
Small mason jars filled with festive trail mix, are a uniquely sweet way to spread the love this Valentines Day!
From: bakelovegive.com
10. Glitter Hearts
There's a lot of glitters… and glittering …  going on around here. I'm pretty sure I'll be vacuuming up glitter right on up until Valentine's Day.
And probably beyond …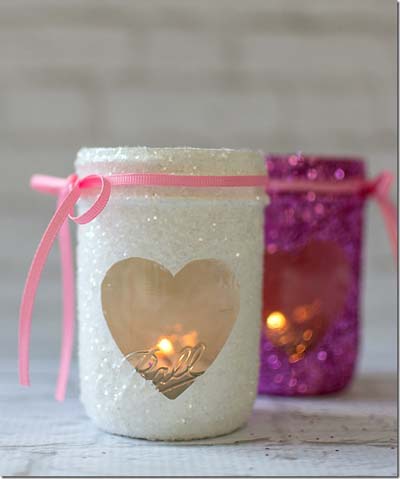 From: masonjarcraftslove.com
11. Gold Heart Mason Jars
I love unique and affordable handmade gifts. 
Today I'm sharing a Valentine's Day Gift Idea that I made using our new Valentine's Day Free Printables.
Oh, my friends, I hope you love these DIY Heart Jars as much as I do! Ready to see them?
From: the36thavenue.com
12. Glittered Heart Mason Jar Tumblers
I've got a super cute and simple Valentine's Day gift idea to share with you all!
I made these glittered heart mason jar tumblers for my boys' teachers last year for Valentine's day and they were a huge hit!
The coolest part is that they are also dishwasher safe!
From: addicted2diy.com
13. Red Velvet In A Jar
Red Velvet Cake In A Jar is a whole new way to enjoy red velvet cake!
These cute miniature jars have layers of red velvet cake and tangy strawberry cream cheese frosting, for a delicious single-serving dessert.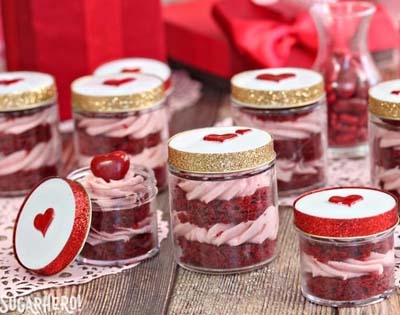 From: sugarhero.com
14. Strawberry Sugar Scrub Mason Jar
This Strawberry Sugar Scrub is perfect for putting into mason jars and giving as gifts!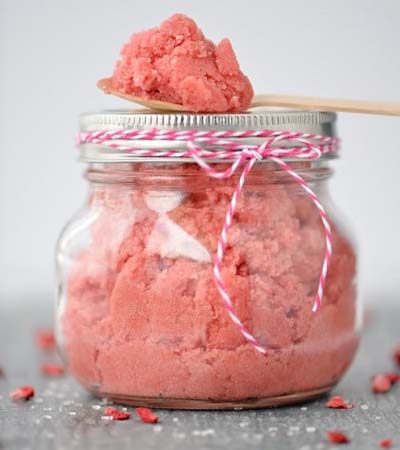 From: thegunnysack.com
15. Cranberry White Chocolate Oatmeal Cookie In A Jar Recipe
If you're looking to give a special gift that shows you took the time to make something yourself, these Cranberry White Chocolate Oatmeal Cookie in a Jar are just the thing!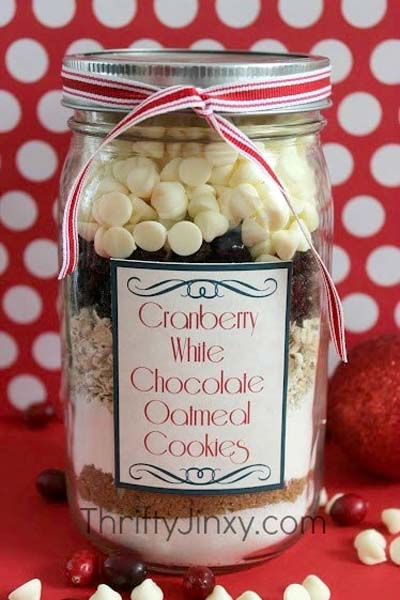 From: thriftyjinxy.com
16. Lemon Drop Valentines Mason Jar Gift
Valentine crafts, gifts, and all things hearts, love, pink and red … full steam ahead!
Well, mostly.  Surprisingly, there is actually not a stitch of red or pink on today's sweet little gift.
From: shakentogetherlife.com
17. Valentine S'mores In A Jar
Valentine's Day is just around the corner!
I love all the hearts and any excuse to play with red and pink colors, so I put together a few quick and inexpensive Valentine gift ideas to share with you.
From: homecookingmemories.com
18. Red Hots Valentine's Candy Gift In A Jar
Is it time to let your man know just how Hot he is?? 
Here's a sweet and simple Red Hots Valentine's Candy Gift in a Jar!
From: thefrugalgirls.com
19. Always Sweet Mason Jar
I'm back with a fun Valentine card & gift idea. My card came together fairly quickly since I mainly used dies.
The jar was done quickly too. First I filled the jar with some yummy candy.
At last, I added the Bow and the Button with the White Scrapper's Floss…voila!
From: silkeledlow.blogspot.com
20. XO See Through Mason Jar
Have you started to think about Valentines Day yet?
Are you the type of person who loves to go all out and decorate your home for Valentines Day?
Personally, I like to add a few bits of red and pink flare here and there.  I usually don't go all out.
Today I am sharing with you a quick gift idea. This idea is super easy to make and really cute too!!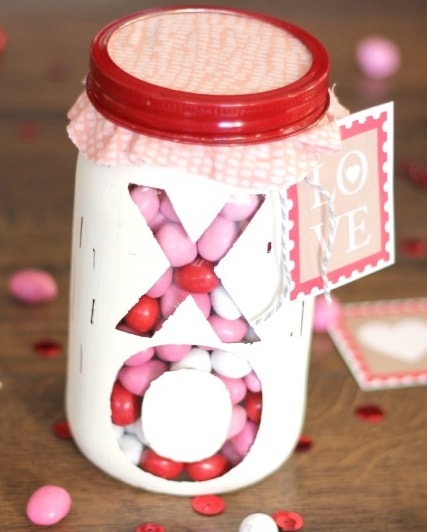 From: hawthorneandmain.com
21. Layered Candy Mason Jar
Do you have someone sweet in your life you'd like to give a little something sweet too?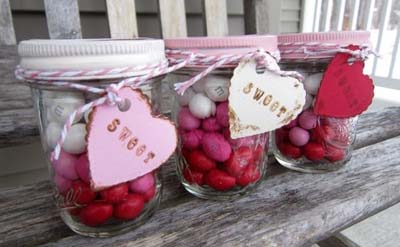 From: simplykierste.com
22. Coffee Beans In A Jar Gift
These Coffee Beans Gift Jars are the perfect gift for coffee lovers.  I decorated the glass jar lids using two different kinds of paint.  I also made three coffee printables which you can print later in this post.  Anyone who drinks coffee will love this gift!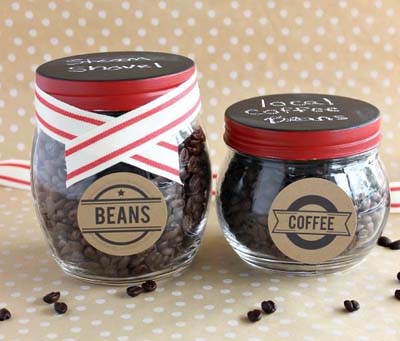 From: purelykatie.com
23. Valentine's Bingo
My Valentine Bingo In a Jar Gift is a fun and creative way to spread some love on heart day!
You could make one of these sweet jars and have it waiting for your kids when they wake up on Valentine's Day, or make some up and deliver them to friends so they can play a sweet game of bingo with their family.
From: gigglesgalore.net
24. Berry Sweet White Hot Chocolate
You guys. Heaven!
These things are so delicious and, as it turns out, they also make a perfect cup of hot chocolate.
Strawberries and cream white hot chocolate, to be exact.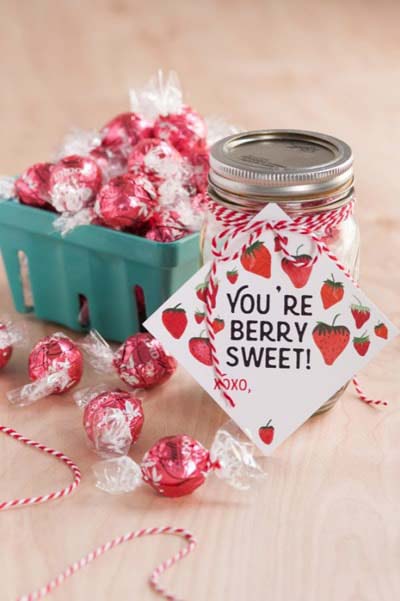 From: thesweetestoccasion.com
25. Valentine Kisses
So I came up with a handmade romantic Valentine's Day gift for men that I think he will actually enjoy!
And it can be made for only a few dollars. I love that it's sweetly romantic!
From: craftaholicsanonymous.net
[related_posts_by_tax]
Loved these Valentines Day Gift Ideas? Then remember to pin it for later!
If you enjoyed this roundup of 25 Valentines Day Gift Ideas, remember to pin it to your board on Pinterest. That way you can easily find it when you want to.