Attending Boarding School from a young age I was in trouble a lot over a messy bedroom.  Luckily today there are lots of bedroom organization hacks and tips to keep one's bedroom organized and neat.
Growing up, I had to share a bedroom with my younger sister.  Arriving back from school during the Holidays, I yanked out the entire content of the closet, much to my sister's dismay, to organize and declutter the closet.
Probably every homeowner I know would confirm that one of the biggest problems in their home is storage related.
I have created a list of bedroom organization hacks to show how one can easily refrain from chaos and live a more organized life.
---
Related Posts:
---
Bedroom Organization Hacks To Help You Keep Your Sanity:
I am sure we are all aware of why it's really nice to have an organized bedroom. It definitely nicer to go to bed and you know there is not a ton of laundry on the chair, staring at you.
Do not overcrowd your bedroom with unnecessary furniture, rather have a minimalist approach. The phrase "less is more", applies here.
A place for everything and everything in its place.  Keep your room tidy, every day. So, in other words, you have to declutter often to be able to keep your room tidy. Fold clothes and laundry immediately and put them away.
Rather opt for a nightstand with baskets or drawers to keep it clean and tidy on top.
Always try to utilize the space underneath your bed. You can maybe use plastic containers for your shoes, winter woolies, luggage, toys or even linens. Out of sight, out of mind.
1.  Saving a ton of space with a vacuum:
A garbage bag and a vacuum? Yes, you've guessed it! You can use an ordinary garbage bag to save up tons of space.  Just fold your items neatly and put them in the bag. With the vacuum hose inside the bag, not touching the sides, hit the switch and see your package shrink. Tie it off with a rubber band or knot when finished.
2.  Storage Bench:
If you are short on space in your bedroom the best thing to do is utilize furniture for more than one duty. A storage bench will give you storage and seating at the same time.
3.  Headboard with storage:
Neatly tucked away from eyes view.  Creative DIY at its best! The overall look is clean and uncluttered.
4.  Wicker basket storage:
Slap some chalk paint on a  wicker basket that ties in with the color scheme of your bedroom. It sure does make a beautiful storage space for blankets or even pillows.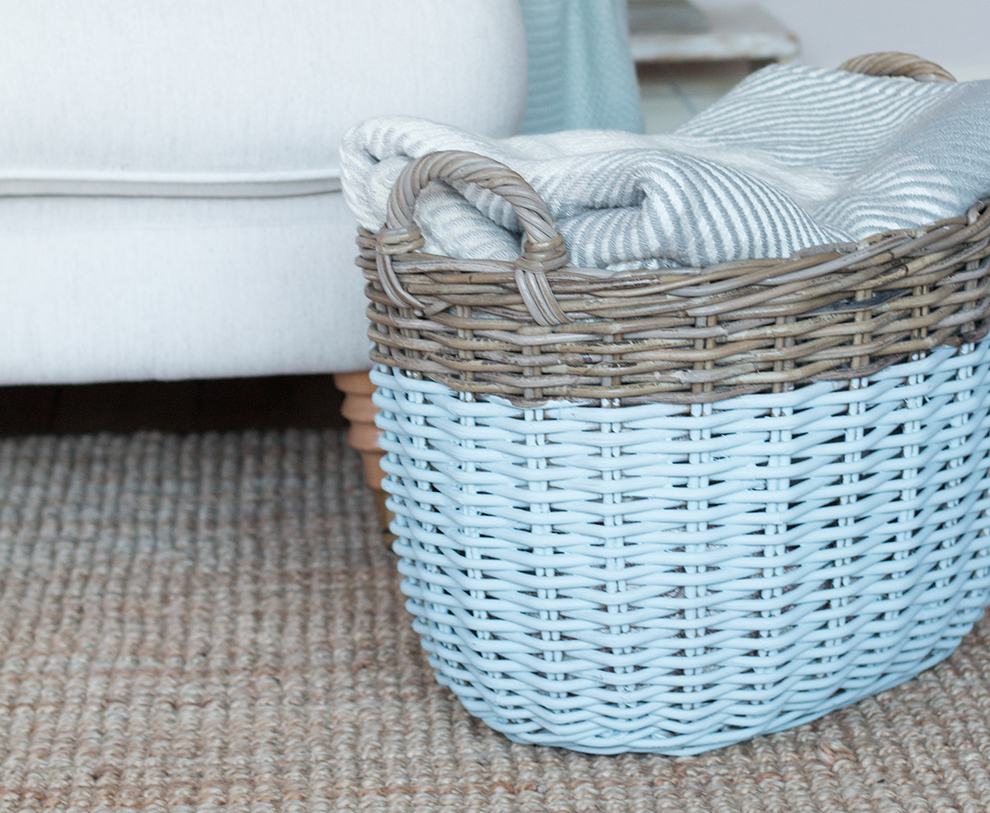 5.  Boot hangers:
Real genius idea to keep the boots off the floor and in the closet.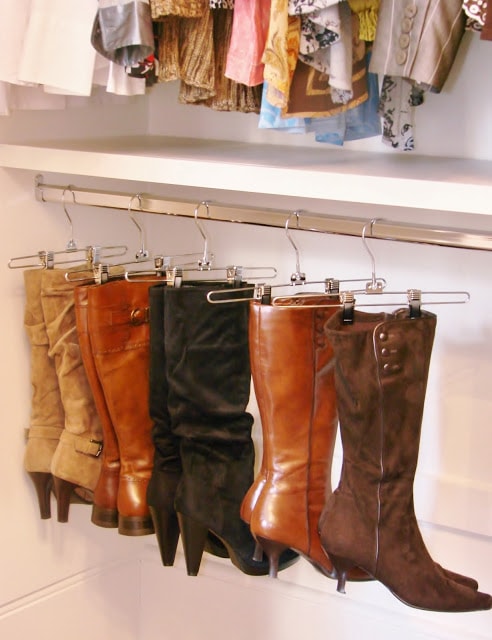 6.  Nightstand:
One can use storage cubes in a number of different ways. Stack them together, use with or without feet or even small furniture casters.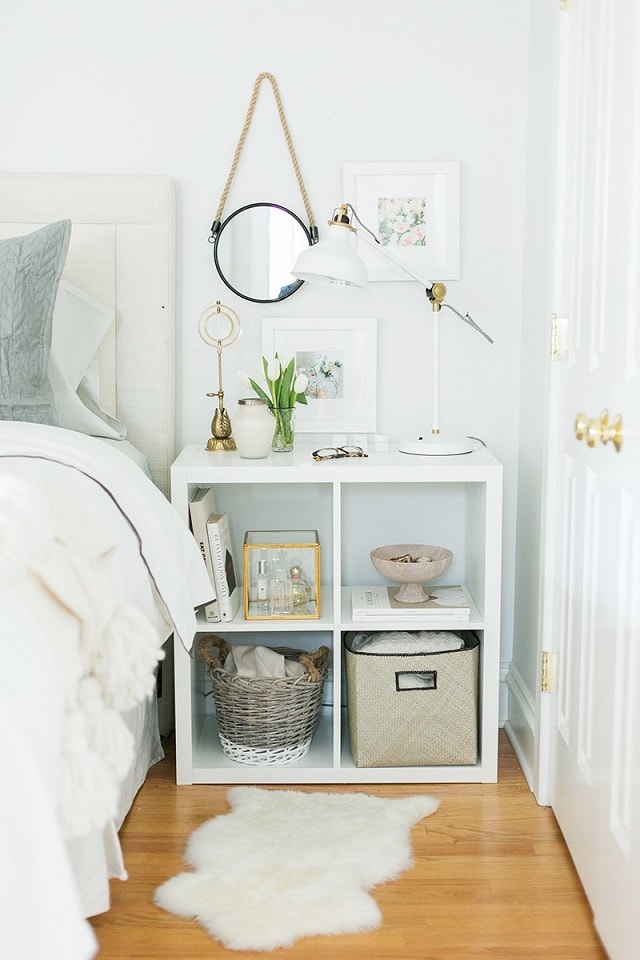 7.  Shoe organization In Closet:
Built open shoe racks space inside your closet to keep shoes off the floor. It looks super cute and is very efficient.

8.  Crown Moulding Shoe Storage:
If you are short on closet storage, try this easy DIY method. Simply glue crown molding to the wall and there you have yourself some shoe storage!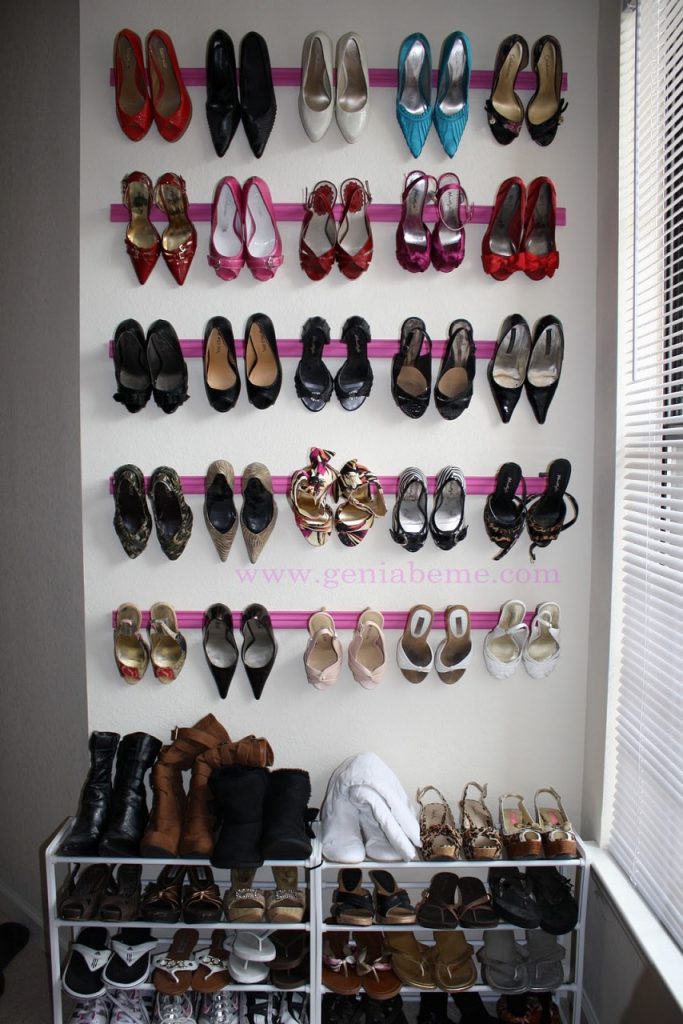 geniabeme
9.  Bedside Caddy:
This DIY organization hack is super easy to accomplish. Your cell phone, and small items within reach.
10.  Plastic Organizers:
You can literally store anything in these bins.  They are so versatile and the overall look is clean and neat.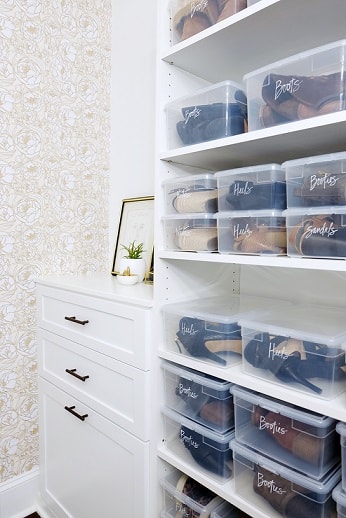 11.  DIY Floating Shelves:
Utilize a corner above your desk for these beautiful floating shelves.  Full instructions and plans on this Bloggers site. Please click the link below the picture.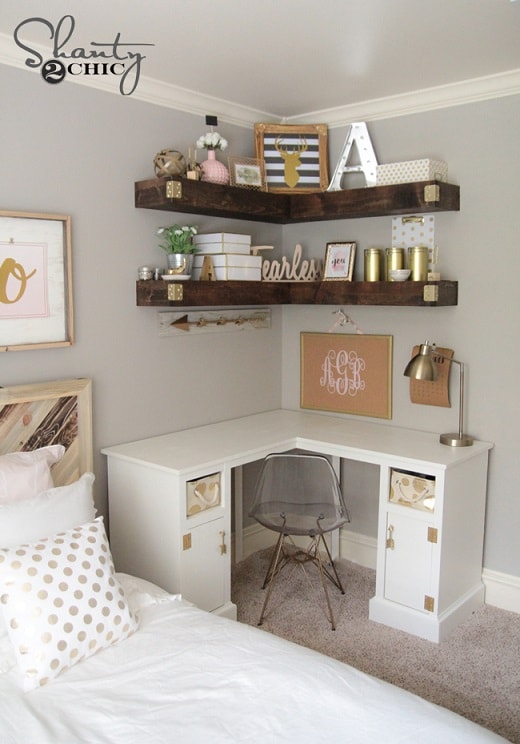 I really hope this list of organization hacks inspired you to start your own organization journey! Let me know if you have any suggestions or tips in the comments below.
Loved these bedroom organization hacks? Pin it for later!
If you enjoyed this roundup of bedroom organization hacks, please pin it to your organization board on Pinterest!